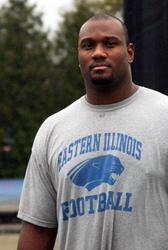 Otis has the ability to play at a high level in the NFL for 11 or 12 years. At least half the teams in the NFL have inquired about Otis, and everybody has good things to say about him
Barrington, IL (PRWEB) April 15, 2010
Sporting News Magazine recently named Otis Hudson, offensive tackle from Eastern Illinois University, one of 10 likely late-round picks or undrafted free agents who could eventually become quality NFL starters. For the last two months, Hudson has been training daily in California with Performance Gaines, the top NFL development facility in the country according to NFL.com.
"Otis is a hard worker with great size and an even greater attitude. He is extremely agile for being such a big guy and has really elevated his game," said Performance Gaines Founder Travelle Gaines, who has personally trained more than 200 current NFL players, including Reggie Bush, Steve Smith, Marcus Trufant and Willie Parker. "For the 2010 NFL draft, I have been training 24 top prospects, including Otis, and Otis is just as good as everyone I've seen. He has a work ethic that outclasses most and is very cooperative and coachable, which are intangibles you can't teach."
His coaches, trainers and just about everyone who meet him agree - Hudson is a gentle giant with outstanding character and a machine-like work ethic built by overcoming adversity. He also has a story with similarities to the Oscar-winning movie "The Blind Side".
Hudson grew up on the tough streets of Chicago's west side where he quickly realized his own athletic ability by protecting himself from gangs. In the 5th grade, he used his strength and speed to avoid a confrontation with 15 gang members who ambushed him while walking home after winning a big basketball game. "I was walking home with a giant gold trophy and all of a sudden 15 teenagers ganged up on me. The gangs were always trying to recruit me because of my size. I had to fight or run every day to protect myself," said Hudson.
To help avoid further confrontations and leverage his height, Hudson began playing Amateur Athletic Union (AAU) basketball. Through AAU, Hudson met Nick Leopardo of Barrington, an affluent northwest suburb of Chicago. Nick and the Leopardo family established a close-knit connection with Otis, and that relationship eventually became the motivation for Otis and his family to move out of the city.
In the 8th grade, Hudson started his football career by playing both offensive and defensive line positions for the city league. One year later, as a freshman at Chicago's John Marshall Metro High School, Hudson was the starting defensive end on the varsity squad. He was also the starting center on the school's basketball team and received Rookie of the Year honors for both sports.
Realizing the importance of education for NCAA eligibility, and wanting to eliminate the stresses of almost daily gang violence, Hudson approached his parents about moving to the suburbs. "I asked my mom if there was any way we could move because I wanted a better education. She said yes and that she was going to look into their options," Hudson recalled. That summer, Hudson and his family moved from the streets of Chicago to the suburb of Barrington, where Hudson could be closer to the Leopardo family, who had become tremendous supporters of Hudson and his potential.
As a junior and senior at Barrington High School, Hudson played basketball, track and field, and football. At football, he was a standout player on both offense and defense. He helped his team reach the state quarterfinals game his junior year. As a senior, Hudson played right guard and earned All Conference and All Area recognitions. The Chicago Tribune named him one of Illinois' top 100 players. In strong academic standing, Hudson received multiple scholarship offers and ultimately chose the University of Minnesota.
After a redshirted first season, Hudson started as right guard and then moved to defensive tackle. In the wake of a coaching transition and craving more opportunities on the offensive line, Hudson transferred to Eastern Illinois University, where he made an immediate impact.
The 6'5", 320-pound Hudson started 24 of 26 games as right tackle during his two seasons at Eastern Illinois and the team won the Ohio Valley Conference title in Hudson's last season.
After graduating from Eastern Illinois with a degree in construction management, Hudson traveled to California to train with the top NFL development facility in the country, Performance Gaines. Hudson is represented by Vinnie Porter of PTA Sports Management.
"Otis has the ability to play at a high level in the NFL for 11 or 12 years. At least half the teams in the NFL have inquired about Otis, and everybody has good things to say about him," said Porter. "Otis is a work horse with a great approach to the game. He has overcome great adversity, worked incredibly hard and has a bright future. He's a little under the radar because of his transfer to Eastern Illinois, but he has the size and talent. Also, keep in mind that he played right tackle for a left-handed quarterback at Eastern, so he was protecting his blind side."
###