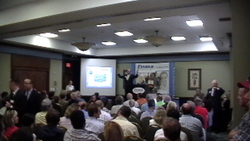 "We had over 400 inquiries to our office for more information, over 5,000 visits to our dedicated auction web page and over 200 preview groups touring only 6 properties – a phenomenal response!"
Fort Lauderdale, FL (PRWEB) April 16, 2010
A Public Auction for 6 Luxury, South Florida properties that were in bankruptcy was held on Saturday, April 10th at the Embassy Suites Hotel in Fort Lauderdale, Florida. All were sold for a total of $3.652 million dollars with final sales approved by the U.S. Bankruptcy Court on Monday, April 12th.
"Knowing our successful experience and familiarity with the bankruptcy court procedures, Kenneth A. Welt - Bankruptcy Trustee, approached us to market and auction these fantastic properties. We expected these homes to generate a lot of interest and were not disappointed," said President and CEO of Fisher Auction Co., Inc. "The U.S. Bankruptcy Court was highly motivated to sell and these homes were in prime locations throughout Fort Lauderdale, making this a tremendous opportunity for any investor or end-user to buy," he added.
"We had over 400 inquiries to our office for more information, over 5,000 visits to our dedicated auction web page and over 200 preview groups touring only 6 properties – a phenomenal response!"
"Because of the success of this auction, other secured lenders are contacting us regarding liquidation of other projects. I am recommending Fisher Auctions in any type of real estate liquidation," said Kenneth A. Welt, U.S. Bankruptcy Trustee.
"I think the market is showing signs of turning and this is ample proof, we have people out there who are buying and lenders needing to sell, an auction provides a platform where the true market value of the property is established – to the benefit of all," said Fisher.
For additional auction information, inventory or photographs visit http://www.fisherauction.com.
# # #