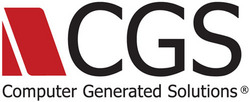 As a technology leader in our industry, CGS brings significant value to our event with solutions for all industry segments and functional roles that are represented in our diverse attendee base.
New York, NY (Vocus) April 20, 2010
Computer Generated Solutions Inc. (CGS) is set to showcase its industry-leading BlueCherry® enterprise software and Leadtec™ shop floor control solutions in the upcoming SPESA EXPO tradeshow and exposition. The CGS exhibit, located in Booth 6042 at the May 18-20 event in Atlanta, will demonstrate how a fully-integrated enterprise can deliver tremendous business value for fashion and other sewn products companies.
"We see SPESA EXPO as the perfect venue to highlight our wide-ranging and integrated business applications," commented Paul Magel, CGS Senior Vice President of Applications Solutions. "By covering the entire sewn products industry, this event allows us to demonstrate how our solutions are helping more than 500 of the world's most recognized manufacturers, wholesalers, importers, and retailers to manage their businesses from concept to consumer."
The recently-released BlueCherry Infinity (http://www.bluecherry.com) enterprise software solution will make its trade show debut at this year's SPESA EXPO. This completely redesigned system significantly advances the capabilities and benefits of the company's award-winning flagship product by leveraging the latest Microsoft® technologies to deliver what clients describe as the most robust and user-friendly business solution ever created for the fashion and sewn-products industry. As one of the most comprehensive systems available, BlueCherry provides powerful Enterprise Resource Planning (ERP), Product Lifecycle Management (PLM), Supply Chain Management (SCM), Shop Floor Control (SFC), Warehouse Management (WMS), E-Commerce; Sales Force Automation (SFA); Business Intelligence (BI); and Electronic Data Interchange (EDI) capabilities in a single, integrated solution.
At SPESA EXPO, CGS will also feature its Leadtec (http://www.leadtec.com) real-time shop floor control solution. This state-of-the-art system helps manufacturers improve productivity, automate payroll calculation, control work-in-process inventory, and more by increasing individual operator performance and enhancing management visibility into shop floor operations. With Leadtec, production employees use individual terminals to account for their time, enter production activity, report problems, and monitor their own performance throughout the course of their work day. The advanced manufacturing management software enables plant managers, supervisors, engineers, production planners, office and support staff to stay on top of all operations, track job status and costs, and react quickly to changing shop floor conditions.
"We are pleased that CGS has decided to participate in SPESA EXPO," noted Dave Gardner, Managing Director of the Sewn Products Equipment and Suppliers of the Americas (SPESA). "As a technology leader in our industry, CGS brings significant value to our event with solutions for all industry segments and functional roles that are represented in our diverse attendee base."
About SPESA EXPO
SPESA EXPO is the most comprehensive exhibition and seminar event for the sewn products industry in the Western Hemisphere. It comprises all segments of the sewn products market, including apparel and fashion, auto and transportation interiors, footwear and accessories, home furnishings and upholstery, safety and protective gear, luggage and leather goods, and other technical and industrial textiles. SPESA EXPO covers the entire concept-to-delivery sewn products lifecycle including design, development, production, and distribution. In 2010, SPESA EXPO will co-locate with Techtextil North America and ATME-I/Megatex on May 18-20 to form "Textile and Sewn Products Industry Week" in Atlanta, Georgia. SPESA EXPO is solely owned by SPESA. For more information, visit http://www.spesaexpo.com.
About CGS
For over twenty-five years, CGS has enabled global enterprises, regional companies and government agencies to drive breakthrough performance through technology. With global delivery capabilities, expertise across leading platforms and deep experience in multiple industries, CGS has become the IT partner of choice for thousands of organizations worldwide. CGS delivers a wide array of proprietary and third-party business applications, technology and business services, outsourcing solutions and learning & communications platforms. Headquartered in New York City, CGS maintains a worldwide presence with 20 offices in North America, Europe and Asia. For more information please visit http://www.cgsinc.com.
BlueCherry is a registered trademark of Computer Generated Solutions, Inc.
Leadtec is a trademark of Computer Generated Solutions, Inc.
Microsoft is a registered trademark of Microsoft Corporation in the United States and/or other countries.
###