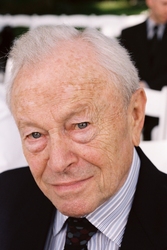 Survival confers no automatic nobility. It bestows an obligation to speak out. Until the last breath.
New York, NY (PRWEB) April 17, 2010
Leopold Szor is a Holocaust survivor, one of the fortunate few who have had to wrestle with these issues. A successful New York businessman now retired, Leo found a novel way to deal with the ghosts and memories of his tormented war years. Rather than push his skeletons deeper into the closet Leo spent years exploring the darkness of the Holocaust, reading every work of fact and fiction based in that dark period. And then he began to write. An amateur playwright, Leo very successfully exploited the dramatic form to examine and explore the entire range of human emotion and interactions brought on during these extraordinary times.
Leo's son Daniel created a compilation of these short plays, written over a 10-year period, the centerpiece of which – The True Messiah – was produced onstage to critical acclaim in 1997. In this play we witness the collision between pragmatism and romance as Rosa, a polish housecleaner, balances her desire for love with her need for financial security. The Chosen People takes place in the Deep South of the post-war United States, an unexpected setting for two survivors to confront their very different wartime ghosts. Both Kaddish and Who? Hitler? also explore ghosts from the past, and the difficulty in reconciling wartime horrors with postwar realities. Finally we are reminded, in Anna's Children, of the shocking choices which must too often be faced during the fog of war.
The compilation begins with a foreword – "In Memoriam" – through which the reader learns of the terrible ordeals experienced by Leo during the Shoah. Near the end of this moving introduction he concludes that in his view survival "bestows an obligation to speak out until the last breath". Leo has done exactly that, and in doing so has given the gift of these unforgettable and provocative dramatic gems.
# # #