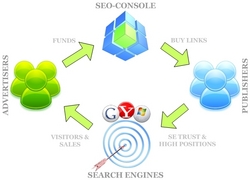 The unique innovation for advertisers from the marketing point of view is that the platform enables promoting their business websites by highly efficient Digest-Based Advertisements
(PRWEB) April 16, 2010
The new innovative platform from http://www.seo-console.com allows empowering marketing and promotion campaigns and, at the same time, eases promotional effort and cost for large- and medium-scale online-based enterprises.
The unique innovation for advertisers from the marketing point of view is that the platform enables promoting business websites by highly efficient Digest-Based Advertisements (DBAs). The ads in the form of such DBAs combine the advantages of two types of advertisements: contextual ads and direct textual links. A number of promotional campaigns carried out by http://www.seo-console.com have shown a high efficiency of this digest-based format for attracting visitors to business websites and obtaining better-quality traffic.
For the publishers, the innovative idea of digest-based ads also renders high benefits. Since, a digest represents a mini-article with a short, but information-intensive summary of the advertiser's website, the publishers get a bonus of obtaining an additional content for their websites.
From the technological point of view, the platform offers unprecedented features for both advertisers and publishers. For instance, in opposite to the competitor's AdWords service, http://www.seo-console.com advertisers are able to select publishers they wish to cooperate with at their own wish. For that, the service offers a search-through-inventory feature providing hundreds of search parameters: domain age of publishing website, niche, quality-level, Google PR of publishing webpages, etc. These features enable online advertisers to place their digest-based advertisements with a highest promotional efficiency ever possible and obtain visitors that most probably will become potential buyers.
Summarizing, the two most important benefits for the advertiser's business websites are: (a) increase in the direct traffic of targeted visitors from the publishing websites and (b) enhancement of ranking in the major search engines and, as a result, higher traffic from their organic search results. The publishers are given an unseen before revenue rate of 80% from the total amount of ads sold, while most of the service' competitors allow revenue of 50-70 percents.
Seo-Console.com is also launching a wide promotional campaign, which includes bonus of USD 10.00 for each advertiser having an account at DigitalPoint forums, and higher revenue rate of 90% for large-scale publishers.
Seo-Console.com is a part of IVRA Holding B.V., headquartered in Eindhoven, The Netherlands, which develops and provides B2C online-solutions for marketing and tourism sectors.
###