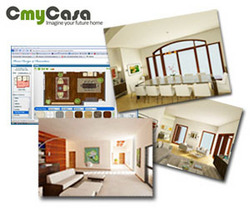 CmyCasa creates a real opportunity to increase sales and add a revenue stream for its partners. Through CmyCasa, exposure to a new targeted market is achieved and more importantly, customers' behavior and preferences can really be learned
New York (PRWEB) April 19, 2010
CmyCasa created an easy to use application allowing the user to drag and drop items from the online catalogue into a room setting, designing in real time.
With CmyCasa, users are able to visualize their homes once furnished to their taste in stunning photo-realistic 3D. The platform runs on any web browser and can be easily embedded.
The interior design platform provides a number of benefits for the potential clients, ranging from furniture & home appliances retailers, vendors, furniture manufacturers and high-level traffic portals including; Real estate, home design, DIY, art, lifestyle, design and, furniture magazines. Manufacturers and retailers can showcase their collection in the CmyCasa interior design furniture catalog, which is then available through the embeddable application on leading key industry high traffic portals. Retailers receive an impressive marketing tool capturing customer data, learning their 'design' behavior, especially in grouping items. Partner sites get an added revenue stream and user generated content as well as increased user retention.
CEO and Co-founder Eitan Tsarfati, stated that "CmyCasa creates a real opportunity to increase sales and add a revenue stream for its partners. Through CmyCasa, exposure to a new targeted market is achieved and more importantly, customers' behavior and preferences can really be learned."
CmyCasa has already partnered with over 50 affiliates among them: CSN Stores - One of the top 3 online U.S. retailers of home and office goods, comprised of more than 200 different shopping sites and Cymax Stores - With hundreds of brands and close to 100 niche market sites.
The company uses innovative technology to run the well designed platform and easy to use user interface. All 3D modeling and rendering is executed on CmyCasa servers, no downloads are required, or user intervention and service interference is needed. The user chooses from pre designed room layouts, or can request a custom design room, and arranges the furniture, appliances, fixtures, colors and art using a simple drag and drop method.
The website is currently available in English and Spanish; Open to any 3D format, uses Rich Web Application Programming Interface (API) and is distributed intelligently with scalability in peak hours.
About CmyCasa
CmyCasa http://www.cmycasa.com/ - was founded in 2008 and backed by the Ofer High Tech VC group.
CmyCasa won the TWS 2009 award by "Globes" - Israel leading financial magazine. To date the company has offices in the U.S and Israel, with the website currently available in English and Spanish.
###