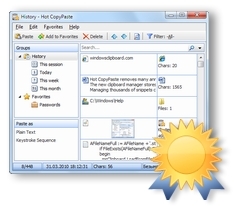 A Better Clipboard!
Vancouver, BC (PRWEB) April 20, 2010
Hot CopyPaste allows users to cut, copy and paste multiple pieces of information at once. It keeps everything that's been copied or pasted even after the PC has been rebooted, and enables users to group, filter, and search through multiple snippets. The new clipboard tool enables paste operation in those programs that don't support Windows Clipboard by feeding these applications series of keystrokes.
About Hot CopyPaste Clipboard Software
Hot CopyPaste removes many annoying limitations imposing by Windows Clipboard, extending it with multiple snippets with full-text search, secure storage, and hot-key access to frequently used snippets. Supporting every program that works with Windows Clipboard, Hot CopyPaste makes Clipboard operations faster and easier. Supporting all types of information recognized by Windows Clipboard, Hot CopyPaste allows copying and pasting plain and formatted text, HTML code, graphics, tables, audio clips, and other embeddable objects.
The new clipboard manager stores everything that is cut, copied, and pasted, allowing users to copy and paste multiple pieces of information at once and protecting information from being overwritten by duplicate copy operations. Hot CopyPaste keeps snippets accessible even after the PC has been rebooted. The clipboard tool encrypts all snippets with industry-standard Blowfish algorithm with a strong 448-bit key, ensuring maximum privacy.
Managing thousands of snippets could not be made easier. Hot CopyPaste conveniently organizes the snippets in groups, and supports filtering and searching information. Frequently used snippets can be added to Favorites which in turn can also be grouped. Single-key paste is available for favorite snippets with hot keys assigned.
Hot CopyPaste enables paste operation in applications that don't support windows clipboard at all by sending series of keystrokes, which makes it easy to fill forms in many Flash and Java applets that don't support clipboard operations or have them disabled.
The latest edition of Hot CopyPaste supports Windows XP/Vista/7, and is offered as a free evaluation download at http://windowsclipboard.com/
About Comfort Software Group
Established in 2006, Comfort Software Group is a privately owned software company providing businesses and home users with a wide range of usability solutions. Products by Comfort Software Group improve Windows usability by extending or replacing standard tools such as Windows Clipboard and automating routine operations. The company is dedicated to providing quality service and constantly improving its products according to customer needs.
###