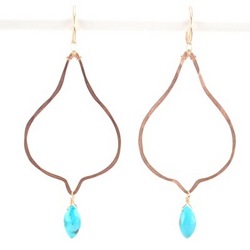 Nashville, TN (PRWEB) April 18, 2010
Jewelry designer Judith Bright announces that her contemporary handcrafted jewelry appears on actress Jennifer Lopez in the film "The Back-up Plan" (CBS Films), due in theaters April 23rd, 2010. Hand-hammered earrings and stacking cuff bracelets—prominently visible on the superstar in the film's poster and trailer - are indicative of Judith Bright's signature design style: bold, clean lines, elegant in its simplicity. Judith Bright Jewelry is available for purchase through her online boutique: http://www.judithbright.com .
The Nashville-based artisan is thrilled to have her jewelry selected for this internationally released film. "I provided several pieces to the film's costume designers and had no idea what they would end up using," says Judith Bright. "Imagine the thrill of seeing my earrings and cuffs on "Zoe," portrayed by the film's star, Jennifer Lopez! We're so excited to have the exposure."
Signature Judith Bright pieces in the film include Paisley earrings, hand-formed and hammered; Ashley earrings, light-weight, hand-hammered, front-facing hoops; India Marquis earrings, India-inspired dangles with turquoise drops; and RockLess Stacking Cuffs, hand-hammered and organic stacking cuffs.
Judith Bright's current lines, SILVER+ROCKS and GOLD+ROCKS, are fashioned from sterling silver and gold-filled chains and elements that link semi-precious stones in various combinations. Her ROCKLESS line, using only silver and gold metals, features hand-hammered and hand-wrapped chain and wire elements.
In addition to "The Back-up Plan," Judith Bright's jewels have appeared in other productions, including the film "The Rebound" (2010 release) with Catherine Zeta-Jones, and television shows, "Gossip Girl," "Samantha Who?," "The New Adventures of Old Christine," "Better Off Ted" and others. http://judithbright.com/blog/?cat=20
Judith Bright began her formal jewelry design career six years ago, after a successful and treasured career as President of Quincy Jones Music Publishing in Hollywood, Calif. She studied at the prestigious Le Arti Orafe School of Jewelry in Florence, Italy, learning, among other skills, silversmithing and wax carving. In 2004, she and her family settled in Nashville, Tenn., where Judith spends her days caring for her children and designing jewelry. Judith's passion is to create quality jewelry for women at an affordable price that they can wear every day and add new pieces frequently.
Editor's Note: Celebrity endorsement not implied.
Media Contact:
Rose Mary Gorman
rosemarygorman17(at)mac(dot)com
###