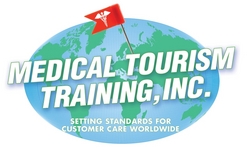 Every phone call or email that goes unanswered or employees that react poorly to foreign customers lose business. Our programs train staff, instilling effective, proven skills that can transform relationships with medical tourists
Brookline, MA (Vocus) April 20, 2010
Medical Tourism Training , Inc., Medical Tourism Training Inc. a Massachusetts based company, delivered its specially created two session training program, "Caring for the Medical Tourist: Training for Hotel and Resort Employees" to more than 250 staff at the Ramada Plaza Herradura, Ramada Plaza Herradura San Jose, Costa Rica. The customer service oriented program addresses the unique demands of international health travelers who are at the crossroads of hospitality and hospitals.
"To be a leader in the medical tourism sector, our employees must be ready to deliver top quality customer service that meets the needs of our guests receiving dental and medical care in Costa Rica", according to Gustavo Araya, President of the hotel. "This training program sensitized our staff to the physical appearances and many of the specific requirements of our medical tourism guests. Our trained staff gives our hotel the competitive edge over other hotels and resorts vying for business in this increasingly dynamic sector".
Medical Tourism Training offers a series of customer service training programs that address the various issues that are crucial to achieving success in the medical tourism sector. "Our research shows that health care providers are losing customers every day because the customer service expectations of international health travelers are not being met. Prompt and polite communications are essential to success in this sector that is relationship driven", says company President, Elizabeth Ziemba. "Every phone call or email that goes unanswered or employees that react poorly to foreign customers lose business. Our programs train staff, instilling effective, proven skills that can transform relationships with medical tourists".
Created specifically to address the obstacles and opportunities faced by medical tourism businesses and organizations, Medical Tourism Training's team of experts from the health, travel, hospitality, training and business sectors understand what is needed to succeed in this nascent industry. The company is dedicated to tackling the unique needs of medical tourism organizations by providing specialized programs based on best practices and real-life situations.
Medical Tourism Training Inc. is a network of professionals providing customer care focused training solutions for organizations in the exciting and rapidly growing field of medical tourism. Its training programs are tailored to meet a variety of business needs and requirements including government certification programs. Its mission is to provide the tools to train, develop, and educate team members to measurably increase productivity and knowledge, leading to improved levels of customer care and business growth in the medical tourism sector.
###