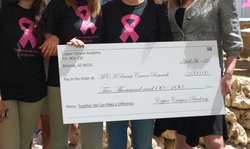 [At Copper Canyon Academy] students learn to confront their past and look forward to their future by following a proven trail to success
Rimrock, AZ (PRWEB) April 19, 2010
When students enrolled at Copper Canyon Academy, a therapeutic boarding school for girls, they may have expected that they would be working on their own issues, not focusing their efforts on helping others.
However that is exactly what happened when one student presented the idea of a fundraiser to the school's Executive Director, Paul Taylor.
"One of our students has a grandmother who is currently receiving treatment for breast cancer at the Mayo Clinic," Taylor explained. "The student decided to do her part by putting together a fundraiser for breast cancer research. She came to me with the idea of designing and selling t-shirts that promoted breast cancer awareness."
Encouraged by Copper Canyon Academy staff, the young woman [name withheld to protect privacy] put together a committee and created the shirts to sell to staff and students. As word spread, parents got involved and bought the shirts as well.
But this may not have been what many of the families with daughters at Copper Canyon Academy would have expected. The Academy is designed for young women who need help in the development of emotional, mental, physical, spiritual and social growth and maturation. Many young women come into the program with issues of entitlement, low self-esteem, negative peer relationships, learning problems and more. With a fully accredited academic program, leadership skill-building and various therapeutic modalities including equine therapy, Copper Canyon helps girls learn to confront their behavioral, emotional and learning issues. Reaching outside their comfort zones of often selfish behaviors and taking on leadership roles are huge steps for these young ladies.
"Our intention is to create a community of warmth, respect, mutual cooperation, friendship, leadership and compassion," said Taylor. "This way, students learn to confront their past and look forward to their future by following a proven trail to success."
The event raised a total of $2,000. Again with the encouragement of staff, the students coordinated a special event to present the check to the Mayo Clinic. The campus was decorated with pink posters the students made to promote the event, and staff and students came out in support, wearing the special-made t-shirts. The event included guest speakers who shared their stories of the effect this terrible disease can have on so many lives.
"It was a beautiful sight to see," said Taylor.
The mass of t-shirts read: "Together we can make it happen, just have faith." The staff and parents of Copper Canyon Academy may just have a newfound faith in the ability of one school to help transform these young women's lives.
Copper Canyon Academy is a program of Aspen Education Group, the nation's leading provider of therapeutic education programs for struggling or underachieving young people. Aspen's services range from short-term intervention programs to residential treatment, and include a variety of therapeutic settings such as boarding schools, outdoor behavioral health programs and special needs summer camps, allowing professionals and families the opportunity to choose the best setting to meet a student's unique academic and emotional needs. Aspen Education Group is a proud member of the National Association of Therapeutic Schools and Programs (NATSAP). Aspen also is a member of CRC Health Group, the nation's largest chemical dependency and related behavioral health organization. For over two decades, CRC Health has been achieving successful outcomes for individuals and families.
###