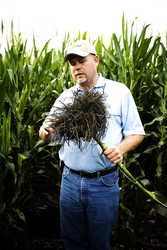 "Bio-Forge helps control disease and regulate "stress" ethylene better than any product I have ever used."
Elizabeth City, North Carolina (PRWEB) April 19, 2010
Stoller technology added to the crop management program of a North Carolina farm and delivered strong productivity and profitability results to an area that typically deals with a variety of stressful growing conditions.
Ken Miller manages 20,000 acres of corn, wheat and soybeans at a Northeast Carolina farm operation.. Like farmers everywhere, Ken's chief concerns are keeping yield and quality high while minimizing input costs to get the best return-on-investment possible.
To help him walk that fine line between productivity and profitability, Miller turned to StollerUSA nine years ago. After the first application of Stoller products, Ken noticed an almost immediate difference in his fields – in regards to overall plant health and yield as well as resistance to stressful conditions, such as prolonged drought, disease and insect pressure.
Corn plants treated with Bio-Forge® and X-Tra-Power™ exhibited excellent root growth and the strong, stable stalks needed to withstand the steady 20 mph winds that blow daily through North Carolina fields. Yield increases typically top 15-20 bu/acre above average, with each plant frequently producing an average of 2 to 3 ears per stalk. In a recent test of one corn variety Miller treated with Bio-Forge it reached an averaged 337 bu/acre while the same variety only averaged 257 bu/acre without Bio-Forge.
"Longer tap roots and a larger number of feeder roots increase nutrient uptake," says Miller "We didn't see roots like this until we started using Stoller. You can't ask for a better root system – it's unreal!"
When a sudden hailstorm leveled one of his cornfields, Miller resisted the instinct to plow it under even though the field appeared to be a total loss. Almost immediately, new growth began to appear. Something he credits to applying X-Tra-Power early in the season. In the end, what would have been a lost cause turned into a 200 bushel per acre harvest.
Miller also credits Stoller products with his outstanding wheat harvest this year. Early use of X-Tra-Power and Bio-Forge with the first application of nitrogen helped give his wheat crop a good start, brining it out of the cold weather and winter stress stronger than in previous years.
Wheat fields treated when the plants were 4-6 inches tall turned a deeper, darker green than untreated plants, and were taller. Even though fertilization was delayed until February, both test weight and yield went up significantly – with a 6-8 bu/acre increase in yield and an average test weight of 59-60lbs, up from the regional average of 52-54lbs.
Insect pressure and disease are also major factors in Miller's area. Having wheat fields only a few short miles from the Atlantic Ocean causes serious problems with SCAB (Stinking Smut) infestations for farms positioned along the North Carolina coastal region. Yet in Miller's fields, he experienced little-to-no issues with SCAB infestation. Something he credits fully to Bio-Forge.
"Bio-Forge helps control disease and regulate "stress" ethylene better than any product I have ever used," Miller stated recently.
According to Miller, before discovering Stoller products they applied 10 gallons per acre of 11-37-0 as part of their regular fertilization program. With Bio-Forge they only use 6 gallons of 10-20-0 with Stoller's custom starter mix, bringing input costs down significantly even as the price of phosphorus climbs higher and higher.
Bio-Forge is a yield-enhancing stress reducer for all crops. It reduces the negative effects of plant stress caused by drought, excessive moisture, frost, herbicide damage and other crop stressors. Proven to enhance a plant's natural ability to overcome damage caused by disease and insects to increase productivity and overall yield, Bio-Forge may be applied as a seed treatment, in-furrow or as a foliar spray application.
X-Tra Power is a plant performance formulation that focuses on early plant vigor and establishment to set the stage for robust plant health throughout the growing season. It mixes well with other chemicals and is a cost-effective component of any starter fertilization program.
StollerUSA is dedicated to helping producers enhance yields by maximizing genetic expression. The result is in enhanced marketable yield, improved return-on-investment and resistance to insects, nematodes and disease. Stoller products are proven to ensure optimum plant growth by maintaining appropriate hormone balance in combination with supporting nutrients, resulting in healthier, more productive crops that are better able to withstand stress and achieve their full genetic potential.
About StollerUSA
In agribusiness for more than 40 years, StollerUSA markets a full line of products to help farmers increase crop yield and quality. StollerUSA, headquartered in Houston, is actively engaged in basic and practical research to enhance crop productivity in more than 50 countries.
###