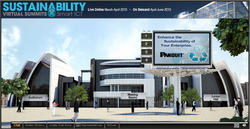 "the first meeting of its kind, ever" UN Global Compact Executive Director Georg Kell
Steamboat Springs, CO (PRWEB) April 19, 2010
On March 31 – April 1, hundreds of attendees from all over the world gathered at the Sustainability Virtual Summits: Smart ICT event to listen to presentations and round-table discussions from business and NGO leaders who presented the case for use of Information and Communications Technologies (ICTs) to help enterprises reach their sustainability goals. During 11 keynotes and 26 track sessions, attendees watched, discussed and debated presentations ranging from overviews of current corporate sustainability initiatives, to highly technical cooling and unified physical infrastructure scenarios, to political roadmaps for sustainability. But, in a departure from traditional conferences and tradeshows, no one left their desk – not the speakers who presented, not the companies who exhibited, and not the visitors who attended the event. Even the roundtable panel discussions were held via telepresence between panelists in locations around the globe, and then broadcast as an integrated panel session into the event.
The Sustainability Virtual Summits: Smart ICT event took place entirely online, in a highly compelling virtual event environment that felt familiar to frequent conference-goers and yet also exciting and different. In a further departure from traditional physical conferences, the event didn't end after the 3-day live launch – it remains online as a knowledge bank for 90 days in an on-demand phase at http://www.SustainabilityVirtualSummits.com. With over 4500 video views, 3000 document downloads and 5200 booth entries to the concurrent exhibition, Sustainability Virtual Summits: Smart ICT achieved its goal of articulating the role of business in advancing the sustainability agenda.
Introduced as "the first meeting of its kind, ever" by UN Global Compact Executive Director Georg Kell, the Sustainability Virtual Summits: Smart ICT presented the case for a future-oriented ICT industry, to respond quickly to the challenge of sustainability. In a candid assessment of the political realities of post-Copenhagen climate policies, Kell made a compelling case for corporations worldwide to integrate non-financial issues into corporate strategies and operations, product design, innovation and research, as the new hallmark for success. Kell's keynote presentation at the Sustainability Virtual Summits: Smart ICT event laid out the need for rule-based, non-discriminatory and open market systems that allow ideas to flow, and best ICT developments to transfer across borders, potentially allowing companies to reduce up to 50% of their greenhouse gas emissions in the next decade.
Event sponsors Orange Business Services took advantage of telepresence technologies to stage a compelling interview with UNEP Executive Director Achim Steiner, and also to host panel discussions on sustainability in the enterprise, the role of businesses in sustainability, and practical applications of ICTs towards this end. Focusing on their experience in enabling smart buildings, smart utilities, teleworking and cooling systems, event sponsors Alcatel-Lucent provided useful real-world examples of how enterprises can reap both business and environmental benefits. Leading TelePresence providers Cisco Systems used their own TelePresence technology to present several keynote and track sessions ranging from the business opportunities to the green benefits of ICT use. The Unified Physical Infrastructure approach formed the basis of sponsor Panduit's keynote address, while track sessions covered smart data centers. The Telecommunications Industry Association hosted various enterprise speakers, and helped to educate attendees on the compliance end of environmental regulations. The Smart Grid track session generated lively discussion and Q&A with speakers, all interacting via an integrated online chat system.
To view these and more presentations, and to visit virtual exhibit booths and download documentation, all in a 24/7 on-demand format, interested parties can visit http://www.SustainabilityVirtualSummits.com and click on the Register-for-Free button.
###