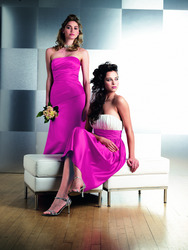 We know what makes women's bodies look their best
Elmsford, NY (Vocus) April 17, 2010
Brides were extremely responsive to Bill Levkoff's spring 2010 collection. Bill Levkoff has taken a different approach and has created a line of dresses and provided color choices that responded directly to consumers' demands. Customers expressed that they wanted a garment to make them feel beautiful and glamorous. Costume-like bridesmaid dresses are in the past.
With resources available to customers, such as the Internet, members of bridal parties, who are the primary consumers of bridesmaids' dresses, are playing a more active role in choosing what they wear. There are still brides who choose to have their attendants dressed uniformly. However, an increasing number of brides are opting to allow their attendants to pick one of several designs. These are often in the same or coordinating colors and complement their attendants' figures and tastes. When a bride is comfortable, then the result is a happy bridal party.
Bill Levkoff has also experienced several other trends this year. Chiffon styles have become increasingly popular. In the past, satin styles were the mainstay of the Bill Levkoff collection. However, chiffon has quickly gained momentum and popularity. Customers are crediting the comfortable, free flowing elegance and light-weight nature of the fabric for increasing attractiveness. Chiffon is not typically regarded as a forgiving fabric, but innovations by the Bill Levkoff design team have led to the creation of designs that focus on accentuating the flattering curves of all women and all figure types. "We know what makes women's bodies look their best," says Hallie West, VP of Public Relations and Marketing. Mrs. West adds that "By paying close attention to each pattern adjustment or added detail, a dress can be transformed from beautiful to fabulous."
Color is one of the biggest changes Bill Levkoff has noticed throughout this year. "For several years, Bill Levkoff's color palette highlighted earthy tones. "Now customers are gravitating towards bold colors," adds Hallie West. Levkoff customers are choosing bright pinks, such as reds, rosepetal, fuchsia and watermelon, as well as canary, glacier, cornflower, royal blue, terracotta and clover. Many times, two of these bold colors are combined. Brides are taking risks in order to make their bridal party pop at the wedding and in photographs, especially in this spring/summer season.
Bill Levkoff reports that the fall 2010 collection will exceed customers' expectations. "We are working around the clock to provide our customers with the products that they love and expect from Bill Levkoff," states co-CEOs Brett Levkoff and Andrew Buchbinder. The company's stellar reputation has made devoted Bill Levkoff customers come to expect the very best product. Levkoff's fall 2010 collection is currently in work, and will be available to stores in several months. Bill Levkoff promises that no one will be disappointed.
The Bill Levkoff collection can be viewed on the company Web Site and seen at authorized Bill Levkoff retailers. Customers can find an authorized Bill Levkoff retailer by using the store locator feature on the Web Site. Bill Levkoff is urging fans to follow their Facebook Fan page. On the fan page, Bill Levkoff hopes that brides who have chosen or will be choosing Bill Levkoff dresses for their wedding will send pictures from their events. These photos will be posted on the fan page and shared with brides-to-be and as well as devoted Bill Levkoff customers.
Founded in 1946, Bill Levkoff has continued to make brides' dreams come true, by offering wearable and stylish dresses that make their attendants feel beautiful. Many of these dresses can be worn time and time again. The company continues to grow each year and solidify its position as the industry leader in bridesmaids' dresses.
# # #