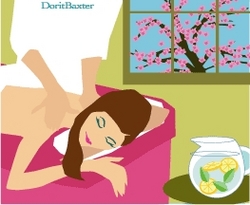 Mother's Day is all about pampering, and so are day spas.
New York, NY (PRWEB) April 20, 2010
"Mother's Day is all about pampering, and so are day spas," says Dorit Baxter, explaining why spa gifts make great Mother's Day presents. Baxter, founder and owner of New York Day Spa,, who was the subject of a profile in the New York Times goes on to say that, "The last decade has changed the traditional Mothers Appreciation Day from taking mom to a special lunch, sending cards and flowers to celebrating in spas. Spas are flourishing with Mother's Day Gift ideas and packages to relax and spoil mother.
"I just was introduced to a different world and now I know what I have been missing. I enjoyed the time which was exclusively devoted to me and I felt loved and special," said a pampered mother last year.
"Spa indulgence is the ultimate ambiance to surprise mom with special gifts of massages, facials, makeovers and relaxing body treatments," says Dorit Baxter.
Over one hundred years ago, Mothers Day was created and since then sons and daughters have never stopped thinking how to make this day special and memorable.
"Years of observation tell us what Mothers favorites are so we created this blissful trio of spa packages for everyone enjoy in our New York spa," says Baxter.
Mom to a Tee
One Hour Body Massage OR Classic European Facial
Spa Manicure
Spa Pedicure
$127 per person
Mom & Me
One Hour Body Massage
Classic European Facial
Spa Manicure
Spa Pedicure
Mother-Daughter Luncheon.
$225 per person
Mom to Be
One Hour Prenatal Massage
Warm Paraffin Manicure
$118 per person
Buy a spa gift certificate for your mother to enjoy at her convenience, share a spa day with your mother, or treat an expectant mother to a prenatal package of spa treatments.
Dorit Baxter New York Day Spa is happy to customize your Mothers Day packages or to help you design the optimal package for your mom's enjoyment. Call us at 212 371-4542.
Purchase a Dorit Baxter New York Day Spa Mother's Day Gift Certificate online
About Dorit Baxter
Manhattan based skin care specialist, Dorit Baxter, is recognized as a leader in NYC spas. Her New York day spa is one of America's first day spas in the nation and it has inspired many NYC spas to offer pampering treatments for all occasions including Mother's Day.
Founded in 1980, Dorit Baxter was featured in Time Magazine, (July 22, 1991) as the prototype for a day spa catering to the convenience of busy urbanites seeking beautifying and wellness treatments in NYC . New York Day Spa began receiving frequent accolades in all the beauty and fashion magazines from Allure to W. Favorable press for Dorit Baxter New York Day Spa continues. In March 2010 Time Out featured the latest in bodywork, the Bamboo Massage, first introduced in NYC spas by Dorit Baxter New York Day Spa.
Dorit Baxter Day Spa is known for combining a warm and friendly atmosphere with the highest quality beauty-and-wellness treatments at affordable prices. Spa Packages are a great favorite with New York Day Spas clients because they provide a variety of popular treatments at generously discounted prices. An original promoter of Dead Sea Skin Care products in the U.S. and an early exemplifier of multi-cultural beauty concepts, today New York Day Spa offers a comprehensive collection of time-tested skin care products for every skin type at every age.
Contact: Dorit Baxter New York Day Spa
212-371-4542
http://www.newyorkdayspa.com/
# # #