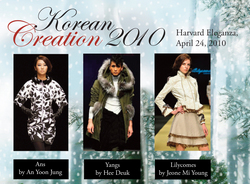 Creativity is all about connecting seemingly unconnected dots
New York, NY (Vocus) April 19, 2010
As the largest student-run fundraising initiative at Harvard University, ELEGANZA is a celebration of cultural diversity expressed through a creative performance of dance, theater and fashion. Taking place on April 24th, 2010, at 8pm in the Lavietes Pavillion, it's one of the most anticipated events of the year on the Harvard campus, attracting over 1,700 students. The production's principal beneficiary is Teen Empowerment, an organization that inspires Boston's inner city youth to take positive action within their communities.
HARVARD ELEGANZA will also serve as a showcase for international artists as they emerge onto the American scene. After their success at the recent New York Couture Fashion week, the work of Korean Creation 2010, comprised of three Korean fashion designers, Yoon-Jung An, Jeone Mi Young and Hee Deuk, will be a highlight of the event. The designers will be presented by MZI Global Marketing, a New York-based consulting firm playing a pivotal role in the launch of international brands in the US. MZI Global was instrumental to the Korean Creation's success in New York Couture Fashion Week.
MZI Global is a creative force for its clients and develops innovative opportunities to present global brands to the US market. "Creativity is all about connecting seemingly unconnected dots," says Mira Zivkovich, President of MZI Global. "A premier institution such as Harvard will be the platform for showing the collections of leading South Korean designers, brought to life in an artistic choreographed performance".
The Korean designers are leaders in the Seoul Fashion Center, which aspires to be an epicenter of Global fashion like Milan, Paris and New York. MZI Global is helping bring this goal to life. All of the designers have already been worn by international icons such as Miss Universe and Miss USA.
Miss Universe Stefania Fernandez wore a stunning gold dress from the ANS collection the week of April 7th at the Gen Arts Film Festival for the premier of "happythankyouverymuch". She has also worn ANS to an event at the UN. "As Miss Universe I had the choice to wear any global designer," says Miss Universe, Stephania Fernandez. "I fell in love with the collection from ANS, and particularly adore the gold dress."
Miss USA Kristin Dalton has worn two ANS dresses as well as dresses from Yang's and Lilycomes for The Azalea Conference in North Carolina and other major televised events. "Each of the designers brings such a fresh perspective to their collections," says Dalton. "The styles are stunning, original and utterly feminine. You feel absolutely beautiful wearing them."
About the Korean Creation 2010 Designers:
ANS will be showing its new collection, 'Green Energy, Cool Earth'. Designer Yoon Jung An has been a shining force on the Korean fashion scene since 1975. Her new collection represents her dream for a better future that coexists with history and nature. In tone with this, the collection has a natural yet sumptuous aesthetic consisting of silk, linen, and cotton decorated with sea-inspired hues of forest green, ocean blue, and snow white. "We expressed the designs that have the best paradigm through natural dye and the use of environmental fabrics," says Ms. An.
Lilycomes by Jeong Mi Young combines exotic patterns with vibrant colors to create pieces of startling beauty and grace. Her work employs the French technique of moulage, a skill learned during her extensive studies in the country at Esmod de Paris, Ecole Nationale Suprieure des Beaus, and Ecole de la Chambre Syndicale de la Couture Parisienne. "Her unique combination of old-world elegance and Asian influence offers rare opportunity to find a custom crafted couture dress," says Zivkovich. "Her designs evoke Hollywood glamour."
Yang's by Hee Deuk features exciting, bold new designs that mix high fashion with bohemian touches. Deuk draws on influences such as military, industrial, and couture and exaggerates them to create works of sophistication and splendor. Yangs' designs are like the petals of an exotic flower, cascading to perfection. The collection is the only one of the three designers to feature fashions for men as well as women. Yangs brings GQ sophistication and style to the next generation of academics and business leaders at Harvard. The Yangs 2010-2011 men's collection is very military inspired and evokes hints of YSL, Dolce & Gabbana and Marc Jacobs.
HARVARD ELEGANZA is attended by thousands of students, distinguished faculty, Harvard alumni and press, as well as top brands and corporations. The event began sixteen years ago as a small fashion show with the goal of raising money for local youth charity, Center for Teen Empowerment. It has grown to become Harvard's premier event of the year frequently selling out and attracting designers and buyers from around the world. Past events have included such participants as Macy's, Club Monaco, Liz Claiborne, and Goldman Sachs. For more information, please visit http://www.harvard-eleganza.com. Through Harvard Eleganza, MZI Global Marketing is opening the door to the US market for new inspiring international fashion designers.
Korean Creation 2010 is a division of MZI Global that focuses on introducing Korean fashion to the American market. It currently features designers Yoon Jung An of ANS, Jeong Mi Young of Lilycomes, and Hee Deuk of Yangs.
MZI Global Marketing is an award-winning, full-service integrated marketing and advertising firm that creates and executes effective high-tech solutions for their clients across a wide spectrum of industries. Under the leadership of president and CEO Mira Zivkovich, recipient of the 2007 Ellis Island Medal of Honor, MZI Global Marketing puts its international, multicultural marketing expertise, a mastery of interactive marketing strategies, and custom publishing prowess to work for clients that aim to build their businesses on a global scale. MZI Global Marketing is committed to guiding its clients from initial strategy to well executed solutions, helping them surmount any challenge and achieving their every business goal. For more information, please visit http://www.mziglobal.com.
# # #