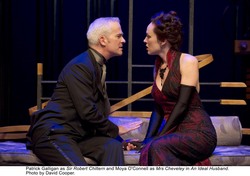 (PRWEB) April 18, 2010
Niagara-on-the-Lake, Ontario An Ideal Husband, Oscar Wilde's social satire centred around blackmail and political corruption, repentance and forgiveness, is currently in previews at The Shaw's Festival Theatre. Artistic Director Jackie Maxwell directs her favourite Wilde work "where virtually every character is revealed to be not at all what they seem".
When Fate catches up to Government Minister Sir Robert Chiltern in the form of a mysterious woman with a revealing letter; a choice must be made between public scandal and the private shame of his righteous wife. An Ideal Husband features Patrick Galligan as the ideal husband in question, Sir Robert Chiltern; Catherine McGregor as the good wife Lady Chiltern; Moya O'Connell as the conniving Mrs. Cheveley; and Steven Sutcliffe as Lord Goring, the Wildean dandy and faithful friend of the Chilterns.
Also featured in the production at the Ontario theatre are Lorne Kennedy, Marla McLean and Wendy Thatcher, with Anthony Bekenn, Wade Bogert-O'Brien, Krista Colosimo, Jonathan Gould, Ali Momen, Kelly Penner, Cherissa Richards, Ben Sanders and Jenny L. Wright.
Designed by Judith Bowden, An Ideal Husband's production team also includes lighting design by Lighting Design Director Kevin Lamotte and original music/sound design by John Gzowski. The stage management team includes Stage Manager Judy Farthing and Assistant Stage Manager Dora Tomassi.
An Ideal Husband began preview performances Friday, April 9, opens Saturday, May 26 and plays in repertory until Sunday, October 31 at the Shaw Festival. During the preview performance period patrons can take advantage of special rates on tickets to An Ideal Husband as well as other Shaw Festival performances.
The 2010 Season also includes Harvey, The Women, The Doctor's Dilemma, The Cherry Orchard, John Bull's Other Island, Age of Arousal, One Touch of Venus, Half and Hour, and Serious Money.
Book by calling 1-800-511-SHAW (7429) or locally 905-468-2172 or online at http://www.shawfest.com. An Ideal Husband is sponsored by CIBC.
About the Shaw Festival Theatre
In the spirit of George Bernard Shaw, the Shaw Festival provokes the mind and stirs the soul through a theatre experience so compelling that, year after year, ever-broadening groups of artists, audiences and supporters are drawn to our work in Niagara-on-the-Lake and beyond.
# # #