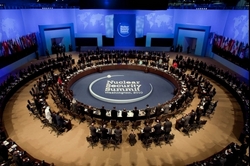 "We are incredibly honored to be so involved with all of these international meetings. While we never set out to be 'summit specialists', we are thankful that we are able to bring our unparalleled experience to bear in this arena"
Washington, DC (PRWEB) April 18, 2010
Showcall Inc., an event production company based in Maryland secures contracts in conjunction with three international summits. Showcall successfully executed two contracts in support of the Nuclear Security Summit in Washington DC, is currently in the midst of a contract with the Department of Labor for a G-20 Labor Ministerial Summit and is soon to deliver on a contract in support of the International Monetary Fund/World Bank Meetings.
On April 12-13, 2010, President Obama hosted the Nuclear Security Summit in Washington, DC, to enhance international cooperation to prevent nuclear terrorism, an issue which he has identified as the most immediate and extreme threat to global security. Over 40 world leaders gathered from around the globe, making this event the largest gathering of leaders since 1947. Showcall has been awarded two contracts in support of the Nuclear Security Summit; one contract with the State Department to provide complex summit specific audio visual production systems, custom software applications, power generation & distribution, IT coordination and office equipment. Showcall's security division was contracted, to provide all security perimeter assets in support of the NSSE (nationally specially secured event), including tenting, barriers, generators, fencing, barricades and a variety of other sensitive security elements.
Secretary Hilda Solis and the Department of Labor will be hosting a meeting of the G20 Labor and Employment Ministers April 19-21 in Washington, D.C. It will be the first time in history that Labor Ministers from the world's 20 largest economies have met as the G20. Showcall was awarded a contract to provide all the audio visual systems, IT coordination as well as office equipment.
The International Monetary and Financial Committee and the joint World Bank-IMF Development Committee will host their annual spring meeting April 24-25 in Washington DC to discuss a range of issues related to poverty reduction, international economic development and finance. The Annual Meetings provide a forum for international cooperation and enable the Bank and Fund to better serve their member countries. Showcall's security division was awarded a contract to provide secure credentialing for delegates and members of the press.
Showcall's unique and unparalleled experience working on high profile, international summits has set them apart from their competition, making them the clear choice among a crowded marketplace.
"We are incredibly honored to be so involved with all of these international meetings. While we never set out to be 'summit specialists', we are thankful that we are able to bring our unparalleled experience to bear in this arena," says Ajay R. Patil, principal, Showcall Inc.
Showcall Inc. was founded in 2001 by Ajay R. Patil and A. Blayne Candy. Since that time, Showcall has produced landmark events such as Pope Benedict XVI's Mass at Nationals Stadium, the very first G20 Summit in Washington DC, the Annapolis Mideast Peace Summit and the Dedication of the US Air Force Memorial. Showcall also co-produced the G20 Summit in Pittsburgh and played a critical role in the G8 Summit Savannah.
# # #