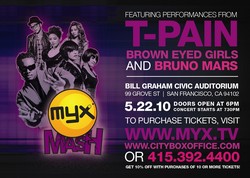 Since MYX® launched in the Bay Area, we want our local audiences to experience the unique brand of entertainment that we as the only Asian American channel in the U.S. can offer
Redwood City, CA (Vocus) April 18, 2010
Tickets go on sale today for what promises to be the biggest concert in the San Francisco Bay Area in celebration of Asian American Pacific Heritage Month this year.
On May 22, at historic Bill Graham Civic Auditorium in the heart of San Francisco, MYX®, America's only music entertainment and lifestyle channel dedicated to the Asian American community, will present, MYX MASH, featuring performances of hip-hop giant T-Pain, K-pop superstar act Brown-Eyed Girls and hot chart-topping producer-turned-solo artist Bruno Mars.
Buzz for the much anticipated concert had already started weeks ago when blogs and social networking sites spread talk about MYX® bringing huge music stars into the Bay Area where the channel was recently launched by Comcast, the largest cable operator in the U.S., on Channel 368 as part of the Digital Preferred Tier. The final line-up of performers was revealed last week, much to the excitement of Bay Area music fans which is now reaching fever pitch.
The performing artists in MYX MASH bring in a truly international flavor that represents diverse Asian American musical interests:
T-Pain
No artist has left their mark on the music industry in the last 10 years like T-Pain has. The double Grammy award winner has solidified his sound with hits like "I'm Sprung", "I'm N Luv", "Buy U A Drank", "Bartender", and "Can't Believe It". T-Pain's use of auto-tune has created a trend or meme in pop culture with the popular web series, Auto-Tune the News, and his best selling iPhone App, I am T-Pain.
T-Pain will release his new album RevolveR this summer, coinciding with his performance at MYX MASH where he will be performing some of his new songs live for the first time.
The Brown Eyed Girls
Jea, Ga-in, Narsha, and Miryo make up one of the hottest girl groups in all of Korea, The Brown Eyed Girls (or BEG). With hits like "L.O.V.E." and "How Come", BEG solidified their place in the K-Pop R&B and dance scene with their biggest single, "Abracadabra", earning the quartet Best Female Group at the Mnet Asian Music Awards 2009.
MYX MASH will be the Brown Eyed Girls' largest concert in North America.
Bruno Mars
This 23-year-old Hawaiian native is coming into his own and is performing in one of his biggest concerts to date, MYX MASH. As a member of the production team, the Smeezingtons, Mars has produced and been featured on "Billionaire" from Travie McCoy (of Gym Class Heroes), "Right Round" from Flo Rida, and on the hit single from B.o.B., "Nothin' on You" which reached no. 2 in Billboard's Hot 100 Chart this year.
After producing hits for other artists, Mars is ready for his spotlight with his EP, It's Better If You Don't Understand.
"Since MYX® launched in the Bay Area, we want our local audiences to experience the unique brand of entertainment that we as the only Asian American channel in the U.S. can offer," said Miguel Santos, head of the MYX® channel. "MYX MASH, which also honors and celebrates Asian Pacific American Heritage Month, is a guaranteed power-packed showcase of music fusion and talent. This is a unique music event and we look forward to having the whole Bay Area community join us."
For more information or to purchase tickets, please visit http://www.myx.tv or http://www.cityboxoffice.com or call 415.392.4400.
ABOUT MYX®
With its U.S. headquarters in Redwood City, California, MYX® was developed by ABS-CBN International, a US-based subsidiary ABS-CBN Broadcasting which is the largest media company in the Philippines and among the largest in Asia. MYX® is the only music entertainment and lifestyle channel dedicated to the Asian American community, utilizing music, culture and entertainment. MYX® can be seen on Channel 368 on Comcast's Digital Preferred Tier in the San Francisco Bay Area, Comcast ON DEMAND, Cox Digital Basic Cable, DIRECTV 2067 and RCN. For more information, visit http://myx.tv.
# # #