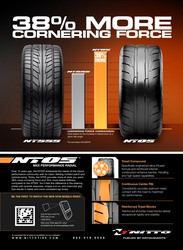 "We are seeing a much higher activation rate on our tags compared to past campaigns that used URLs or phone numbers."
Cypress, CA (PRWEB) April 19, 2010
Nitto Tire announces the release of a new advertising campaign that integrates Microsoft's "tagging" technology. These tags, which can be displayed on anything from printed materials to kiosk computer screens, allow users to access exclusive Nitto content by first taking a picture of the tag with their smartphones and then viewing the content directly on these mobile devices. Nitto launched this technology in select consumer magazines this spring and is the first tire manufacturer to use Microsoft's technology. Nitto plans to expand its usage of the tags throughout 2010.
When asked about the campaign, marketing representative Harry Kong responded, "We were looking for a way to engage with our consumers in our print ads. The ad tags allow us to give in-depth product information without being limited by a single ad page. By linking to additional web content we are able to engage our consumers." Nitto's inaugural campaign featured a comparison between two of its street performance tires, the NT555 and NT05. Users seeking additional information were encouraged to download Microsoft's free software and scan the customized tag to watch a third-party video testimonial on the products.
In addition to providing media-rich content, Microsoft's software includes daily metrics showing the number of scans each tag received. "We are seeing a much higher activation rate on our tags compared to past campaigns that used URLs or phone numbers," said Stephen Leu, Nitto's market researcher who spearheaded the project. "We think this will only increase as the tagging technology reaches a broader market and more consumers buy smartphones and download the software."
Nitto plans to launch several additional ad campaigns that include similar integrated tags. Content for these campaigns range from motorsports and driving videos to product positioning and explanation videos. Look for these campaigns on newsstands nationwide throughout 2010. For more information on Microsoft Tagging visit http://www.Microsoft.com/Tag.
Nitto Tire develops performance tires for all uses, including racing, off-road and street. Using state-of-the-art manufacturing and testing facilities in both Japan and the United States, the company provides innovative and high-quality performance tires for the most demanding enthusiasts. For more information about Nitto Tire or its products, visit the company's web site or contact the company directly. Nitto and Fueled by Enthusiasts are registered trademarks or trademarks of Nitto Tire U.S.A. Inc., located at 6021 Katella Ave., Ste 250, Cypress, CA 90630.
###