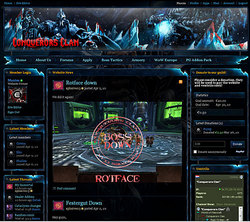 Gamers and website makers have rated Enjin as the best guild hosting website in 2010.
(PRWEB) April 18, 2010
Enjin PTY LTD (http://www.enjin.com) the leading provider of guild hosting and clan website services that lets guild masters and clan leaders create highly customizable community websites, has quickly reached a milestone of over 100,000 users.
Clans and guilds have high standards for the look and functionality of their website, and many choose Enjin for their flexible theme editor and professional selection of gaming templates for World of Warcraft (WoW), Aion, Bad Company 2, Modern Warfare 2, Star Trek Online, Lord of the Rings and a vast list of supported games. "Gamers and website makers have rated Enjin as the best guild hosting website in 2010.
Enjin is primed to offer full support and themes for all upcoming games including Star Wars: The Old Republic (SWTOR), Starcraft 2, Diablo III, and The Secret World. It is the only service that focuses on supporting multiple games on a website, which is great news for multi-gaming teams.
A much anticipated DKP and raid points system is coming soon to Enjin, with support for all major titles as well as lesser known MMO games that don't receive enough recognition from other guild hosters.
In light of recent news from Ning that all (NING) networks will be forced to pay for premium services or transition off of Ning, "Enjin is a perfect alternative for all Ning users who run a gaming or entertainment based community website who still need a free guild host", says co-founder Maxim Blagov.
A free plan is available with forums, private messaging, recruitment, and all the standard guild tools. Premium plans offer file storage and more advanced features for larger gaming communities.
Users looking to make a new guild can benefit from the thriving community exposure and recruit members quickly with Enjin's application form system and recruitment status module. Other features include easy Achievements and Raid Progression tracking, and live server status for major games.
Enjin will always provide a free option for guilds and clans who need an online presence to communicate with each other outside of the game.
# # #