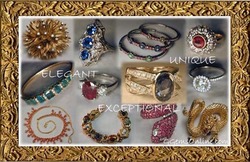 Gorgeous necklace!!! Just like the description - very elegant!! Great seller!
Forest Hills, NY (PRWEB) April 29, 2010
Starting from April 29 thru May 30, this leading jeweler offers free shipping on all purchases. In an online market, it is becoming increasingly difficult to ensure customer satisfaction. When consumers shop online they want to make sure that the quality and price of their goods meets their expectations before it is sent to them. For ten years, GGEMSOnline has been meeting these standards and providing a quality of service for their customers that exceeds their expectations. GGEMSOnline is a business that values its customers and strives to make them happy.
GGEMSOnline prides itself in its accurate representation, quality shipping rates, great return policies and, most importantly, one-of-a-kind products. At GGEMSOnline customers can be sure that they can return any item that they are not satisfied with for a full refund. However, the facts show that one of the feelings that accompanies customers who receive items from GGEMSOnline is satisfaction and not disappointment. GGEMSOnline has a reputation of providing their consumers beautiful items at reasonable prices. Also, we guarantee that the items they see represented on the site are the actual items they are purchasing; accurately and vividly shown.
It is often the case that consumers find themselves paying more for a single item online than they would in a retail store. The staff at GGEMSOnline can assure that with them this is not the case. Rather, they offer prices far below the retail market; offering their consumers a great discount and, at the same time, a great value. Consumers with a passion for fine jewelry should come to this site for the kind of deals they want on pieces that are sure to impress them.
GGEMSOnline has a large inventory of rings, earrings, bracelets, bangles, necklaces, pendants, and watches made of 14K and 18K gold, silver, and platinum featuring natural gemstones that range from diamonds, emeralds, rubies, and sapphires to other semiprecious and precious stones for incredible prices. The quality of their goods is unbeatable and their customer satisfaction record is impeccable. It stands to reason that in fact, GGEMSOnline may be the best in jewelry on the web.
This release was written by Matthew Krichmar, sales representative for GGEMSOnline. For more informations contact us or visit our site.
Media Contact: Krichmar, Matthew, Sales Representative for GGEMSOnline, (888)-754-8090, matthewkrichmar23(at)gmail(dot)com
# # #