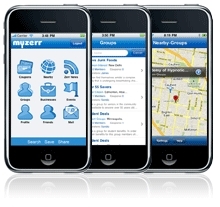 the ability to connect with customers 'on the move' presents great new marketing opportunities
(PRWEB) April 19, 2010
Some of the HOTTEST new apps on the iPhone are using location based information to connect place with social networks. The iPhone Myzerr App is a new coupon application that is following this trend.
Myzerr, a startup social network for coupons, provides users with the ability to download free online coupons directly to their iPhones. This useful application has a 'Nearby' function that when selected shows the users' location on a map and displays restaurants, retail stores, gyms and other local businesses who have signed up to Myzerr to promote their business. After selecting a business location on the map, the app generates a Myzerr iPhone coupon and the user shows it to the business to claim a discount.
Another useful function for users and for businesses is the ability to 'share' the coupon on Facebook, Twitter or by email. Myzerr also allows users to form groups to share discounts with friends. With these tools shopping centers or the 'local mall' can form groups for their local loyalty programs.
"Everyone loves to save," says Myzerr CEO Slade Sherman: "now Myzerr takes all the hard work out of it! In effect the business finds YOU - which is just as it should be. Best of all, the service is completely free, both for you the user and for the business offering the discounts!". Sherman says "We are encouraging any small business and franchise chain that understands the benefits of location based services and social media to register, there really is no risk".
Myzerr is an innovative new location based application, offering coupons and discounts from local businesses. The ability for these businesses to easily setup their own loyalty programs & provide exclusive discounts to local communities is set to revolutionise the coupon marketing industry.
Myzerr Beta can be viewed online at Myzerr.com and the app is available from the iPhone App Store by searching for 'myzerr'.
# # #