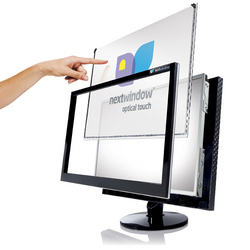 Our rapid growth is due in part to the success of Windows 7, which has encouraged many users to buy new PCs shipping with NextWindow touch screens
Pleasanton, CA (Vocus) April 19, 2010
NextWindow, the leading provider of optical touch screens to manufacturers of desktop PCs, computer monitors and large-format displays, today announced that the successful October 2009 launch of Windows 7, the latest operating system from Microsoft, has led many consumers, businesses and government agencies to upgrade their PCs.
Happy Windows 7 users are making the transition to newer PCs in order to take advantage of the operating system's advanced capabilities, including support for multi-touch functionality. NextWindow multi-touch screens are shipping with over 14 desktop PCs and monitors from industry leaders such as Dell, Hewlett-Packard, Lenovo, Medion, NEC, Samsung and Sony. NextWindow touch screens are logo certified by Microsoft, which ensures they will achieve Windows 7's high-performance standards.
According to analyst firm International Data Corp., PC sales between October and December were the highest for any three month period in 2009. In the meantime, Forrester Research has reported that a vast majority of Windows 7 customers are very satisfied with the system. Microsoft says that over 90 million Windows 7 licenses were sold in the first four months after launch.
NextWindow was the first optical touch screen manufacturer to announce Microsoft Windows 7 logo certification. This was a major milestone because it gives the world's largest PC manufacturers confidence that NextWindow touch screens have passed Microsoft's rigorous tests for compatibility and reliability. Windows 7 is the first-ever operating system to offer multi-touch functionality.
"Our rapid growth is due in part to the success of Windows 7, which has encouraged many users to buy new PCs shipping with NextWindow touch screens," said Al Monro, CEO at NextWindow. "To meet the product demands of PC manufacturers we've improved various manufacturing processes and increased touch screen output capacity significantly. We're now well-positioned to serve the burgeoning market for touch-enabled desktop computers and monitors."
About NextWindow
NextWindow is a leader in touch-screen technology and a major manufacturer of optical multi-touch screens for OEMs, ODMs and resellers. With highly accurate, cost-effective solutions designed for personal and business use, NextWindow provides the hardware necessary to bring touch-screen technology to life—giving software designers the freedom to create exciting and intuitive applications. Founded in 2000, NextWindow is privately held with offices in New Zealand, Taiwan, USA, Singapore and Korea, with manufacturing facilities throughout Asia. More information about NextWindow is available at http://www.nextwindow.com.
Company contact:
David Villarina, NextWindow
+1 (925) 272-4530
# # #