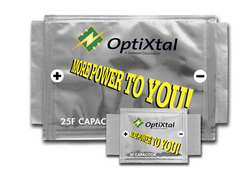 Philadelphia, PA (PRWEB) April 20, 2010
With ¼ the ESR of many competitive supercapacitors, new OptiXtal, Inc. SuperXcaps(tm) offer the lowest ESR available. The 5F SuperXcap handles 5 amp maximum current and is rated with an ESR (DC) of 70 m©. Typical competitive 5F units offer maximum amps of only 3.4 amp maximum current and an ESR (DC) of 200 m©. This means the time constant, (ESR x Capacitance) of the SuperXcap is far lower. By charging (and discharging) a lot faster, performance effectiveness is significantly improved. In fact, if the competitive 5F unit were required to take on the maximum current easily handled by the OptiXtal SuperXcap, it would burn out.
Another OptiXtal SuperXcap advantage is the unique housing. Standard supercaps are cylinder-shaped with hard outer shells, SuperXcaps are contained in a flexible ultra-thin pouch. This structural difference means they can be adapted to a variety of end-use applications such as cell phones, battery operated power tools, and wireless energy harvesting devices for capture of motion, light & strain measurement.
This lower ESR value is especially important in maximizing the potential of the remaining current in a discharging battery. Once a battery runs down to the point where it can no longer generate sufficient voltage for start up, an OptiXtal SuperXcap can be called upon to pull the remaining charge from the battery and deliver it with the voltage needed for high power bursts required at start-up. For energy recapture, peak load shaving, and high power applications, SuperXcaps are the only supercapacitor that meets today's energy harvesting expectations.
SuperXcap supercapacitors can be arranged in series, parallel, or any other design configuration where bridge technology makes sense. For more information on SuperXcap capacitors from OptiXtal contact us or call 267-257-8139. One of our engineers will be glad to discuss the feasibility of including SuperXcaps in your next design. Or, visit http://www.optixtal.com.
###