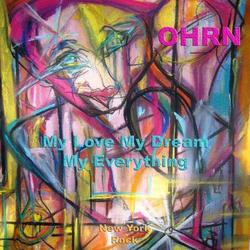 My Love My Dream My Everything
New York, NY (PRWEB) April 19, 2010
Entertainment Lawyer Lisa Beth Older announces that OHRN has released the single "My Love My Dream My Everything". Now playing on Jango radio. It is now available for digital downloads on iTunes, Napster, eMusic and other digital music sites. New York Entertainment Lawyer Lisa Beth Older advises DJ's and Radio Stations to definitely keep their ears open for this one. "If you're into artists like Tina Turner, Bryan Adams, Annie Lennox, Sheryl Crow, Fleetwood Mac and Alicia Keys you'll be refreshingly and pleasantly surprised."
OHRN is a group of professional band members, songwriters, musicians and artists focusing on songwriting and bringing great songs to the audience/public. They are currently busy working on an album aimed for release later this year under the Indie label OHRN RECORDS, and this single is a teaser of what's coming. With songwriters based in NYC and with Nashville influences, roots in seventies and eighties Rock and with a mix of R&B and Soul; this single 'MLMDME' is an upbeat feel-good song with thoughtful lyrics and a pumping beat exuding desperation, cool chord changes with a catchy hook. "It has a James Bond road movie feel to it, and a touch of Motown." The soulful vocals with range ride it out with a bang. PS. Check out the original artwork for the cover.
Songwriters: Janne Ohrn, Charlie Staxx.
MLMDME is now available for digital downloads on iTunes, Amazon MP3, Rhapsody, Napster, IMVU, eMusic, Lala, Nokia, Lime Wire Store, Zune, Amie Street and Shockhound. This song would also be of interest to Billboard, Performing Songwriter, Spin, Alternative Press, Relix, CMJ, Rockpile, Music Connection Magazine.
###