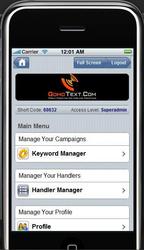 With the new iPhone App, our clients and resellers will be able to manage all their campaigns using the iPhone at no extra charge. This release will make our Campaign Manager v5.0, one of the only Mobile Marketing Platforms to offer this feature.
Lewisville, TX (PRWEB) April 20, 2010
GOMOTEXT.COM, a leading provider of mobile engagement solutions including mobile marketing, Smartphone apps and optimized mobile websites, today announced the release of its new one of a kind iPhone App that will allow users to manage their marketing campaigns using their iPhones.
Whether businesses are looking to develop a sophisticated mobile marketing campaign or simply trying to reach out to their clients: GOMOTEXT's latest mobile marketing platform coupled with the iPhone App can successfully manage all mobile engagement needs.
The Campaign Manager v5.0 is a MMA compliant mobile marketing platform that can be used for launching Standard and Premium Rate mobile marketing campaigns like SMS Voting, Contests, Text2Win, Sweepstakes, Text2Screen, Polls, Coupons, SMS Blasts, Ringtone/Wallpaper delivery and much more. By using the newly released iPhone App clients can now manage their campaigns on the go anywhere with just a few taps.
Below is a summary of the updated features supported by the campaign manager v5.0 which are now also available on the iPhone App.
White Label Solution:
This feature allows GOMOTEXT to take core engine and bolt on to it additional systems and solutions to offer clients the exact product that works for them with their specific branding. This solution enables companies to focus on sales and marketing effectively while outsourcing all technical software development and development costs.
Enhanced API Access:
The enhanced API allows independent developers to build custom applications using the HTTP API or SOAP Web Service exposed by the platform. Developers can begin sending and receiving SMS over a short code in minutes. GOMOTEXT has also released the Version 3.0 of the Gateway API enabling clients to tightly couple campaign manager platform into their existing campaigns. List management, scheduling and a lot more features can now be leveraged using this enhanced API.
Single Sign On:
The 5.0 version supports single sign on from client applications which means that the users don't need to login to the campaign manager. Clients can pass login credentials from their application after authentication along with any other custom session variables.
Subscription Handler:
A new handler has been added to Campaign Manager's already existing elaborate list of handlers. The new handler provides clients and resellers access to standard and premium rate subscriptions with ease and flexibility.
Text2Screen Displays:
New displays allow the clients to select from a list of backgrounds for the screen and also choose additional text customization parameters like scrolling speed and amplitide.
Account Management:
The resellers or clients can add and manage new sub accounts in real time without administrator support.
Enhanced Reporting:
New reports have been added to the Analytics section of the Campaign Manager which provides access to all Campaign specific data. These reports can be exported to Excel or Word as well.
Multiple Aggregator Support:
The platform already supports the following SMS Aggregators mBlox, MX Telecom, Open Market and Clickatell. Plans are in place to add support for additional aggregators.
ABOUT GOMOTEXT:
GOMOTEXT.COM, based in Lewisville, TX has assembled one of the most technologically advanced mobile marketing platforms in the industry to help brand marketers, agencies, wireless carriers and content providers engage consumers one-on-one via mobile engagement strategies. The company leverages long-term relationships in music, sports and entertainment to develop campaigns for its customers that include mobile messaging, mobile content provisioning and delivery.
For more information, visit http://www.gomotext.com Or call us at 1-866-436-9011
###