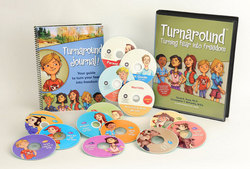 The Turnaround CDs and journal have been life changing at our house. Our son struggles with anxiety related to perfectionism and social situations. When he listened to the
Charlotte, NC (Vocus) April 20, 2010
Informed Therapy Resources (ITR) is proud to announce the successful product launch of Turnaround: Turning Fear Into Freedom™ with rave reviews by parents and a product endorsement by the Medical Director of the Levine Children's Hospital. After two years of research and production, ITR is pleased to release Turnaround: Turning Fear Into Freedom™. Turnaround combines the clinically proven techniques of cognitive-behavioral therapy with the creative talents of child authors, actors, and entertainment designers to create a program that is therapeutically effective and highly entertaining for children. This combination of education and entertainment is what makes Turnaround truly unique. There's nothing else like it available today!
Here is what they are saying……
"With the national shortage of mental health resources for children leaving pediatricians with little options to offer parents, Turnaround serves a critical need for children dealing with anxiety. A comprehensive program for children ages six to thirteen years old, Turnaround is a resource well worth your time and energy. A professionally researched foundation combined with a creative, child friendly delivery sets Turnaround apart from other available resources. The child can listen independently, but I strongly recommend that parents join with their child. This will foster the parent/child relationship, and strengthen the parent's understanding and advocacy for the child. The additional information included for parents is very informative and helpful. I would wholeheartedly recommend Turnaround to my patients facing anxiety of any type." – Kerry Van Voorhis, MD Medical Director, Levine Children's Hospital at Carolinas Medical Center, Charlotte, NC.
"The Turnaround CDs and journal have been life changing at our house. Our son struggles with anxiety related to perfectionism and social situations. When he listened to the "Turnaround" CDs, he was relieved to know that he is not alone in his feelings. The kids on the CD were easy for him to relate to. The other characters were funny and made the program entertaining which, in turn, made it easy to get our son to listen to them. The techniques for dealing with anxiety in all types of situations were easy to understand. Turnaround is an essential tool for any home with an anxious child. Our son has been applying the techniques he learned almost daily and we are all enjoying the freedom!" – Kelly, mother of a 10 yr old son
"All my children loved the story and wanted to listen to it repeatedly. They loved the kids on the team and especially the teen leader, Emily. I loved how it gave me a vocabulary in which to speak to my children about their fears! It far exceeded my expectations and I think every parent should listen to it, regardless if their children have major anxieties. It's a therapeutic, educational, and parenting tool all in one!"

Wini, mother of 4 children ages 5 to 9 years old.
"As a mother and as an author of literature for children, one of my primary desires is that children would grow to maturity with a healthy view of themselves and an understanding of how they can be active participants in overcoming the challenges they face. The Turnaround series offers children and their parents helpful tools to recognize anxiety and fear and to face these challenges in a fun and creative way.. My own children have laughed their way through the audio program, and are excited each day about recording their thoughts and answers in the journal, but most importantly the Turnaround series has given our family a common language to use to talk about our anxieties and fears, and some shared tools to overcome them. I highly recommend this series." - Kristy Dempsey, Children's book author ("Me with You.")
"We listened to Turnaround in the car as we traveled to Disney World. You know you have a good program when you can compete with Mickey! Here my kids are in the middle of Disney World and they keep asking us when they get to listen to the next day of Turnaround!" - Terry, father of four kids
Turnaround is based upon cognitive-behavioral therapy, which has shown conclusive results in the treatment of children with anxiety and depression. The program invites the listening child to join 6 other anxious children on an imagined 10 day hiking trip with two "Docs" Chris and David, and a mentor teen named Emily. Emily acts as the narrator and guide, while the "Docs" lead the children though each day's adventurous lesson. Along the journey, the children meet imaginary characters that make learning the anxiety reducing techniques easy and fun. There's Doliver the mountain man, an old-timer who looks and sounds strange but who's full of wit and wisdom. Krank is a Samurai Warrior who personifies the anxious feelings kids have within their bodies. He's a crazy, sword swinging warrior who grabs the kids attention as they about what's happening in their bodies when they experience fear. Krank's opposite is Chill, a laid back surfer dude who teaches the kids how to relax. There's also Kerplop the talking Beaver, Juan-Carlos the world-famous dog listener, and Detective Watson from Scotland Yard. The talents of 14 child actors and 6 adult actors were utilized to make Turnaround an audio adventure they'll want to listen to again and again. That's the beauty of Turnaround; the kids are learning scientifically researched anxiety busting techniques in way that feels fun, friendly, and emotionally engaging.
The Turnaround Audio Program includes:
Turnaround Program for kids (10 CDs)
Turnaround Journal, a 74 page workbook for kids
Chill Kit, relaxation guide for kids (1 CD)
Parent Guide, packed full of helpful information and techniques to help parents (2 CDs)
A BONUS CD titled Med FAQs in also included. Med FAQs is an interview with nationally recognized Neuropsychiatrist, Dr. James Lee, offering a comprehensive discussion on the medications used to treat child anxiety is also included.
For additional information on the news that is the subject of this release or for a demo, contact us at info@myanxiouschild.com or call ITR at (704) 208-4304 or (704) 293-2994 Please visit http://www.myanxiouschild.com to learn more about Turnaround: Turning Fear Into Freedom™.
About Informed Therapy Resources (ITR):
Informed Therapy Resources (ITR) is dedicated to creating mental health treatment programs that are scientifically based, proven clinically effective, and professionally developed- using creative, eye-catching audio visual materials
David Russ, PhD, Psychologist
Dr. David A. Russ is President and a Licensed Practicing Psychologist of Carolinas Counseling Group in Charlotte, NC. He and his partners have built a busy practice with 11 clinicians. His doctoral dissertation was original research about a novel treatment for anxiety. He is co-author of the book, "More Than Me," published by NavPress. Dr. Russ has been an adjunct or visiting professor for four different graduate counseling programs. He has been continuously providing care for over 20 years. He has been happily married since 1983
Christopher T. McCarthy, MEd, Licensed Professional Counselor
Christopher McCarthy, MEd, is a Licensed Professional Counselor who specializes in treating child anxiety disorders, teen behavioral issues, parent-child relationship issues, and couple conflict. He co-owns Informed Therapy Resources and co-created Turnaround: Turning Fear Into Freedom™, a professional and creative audio program designed to help kids get free from anxiety and fear (myanxiouschild.com). He has 3 Masters Degrees and is finishing a PhD in Counselor Education and Supervision. He gives lectures on parenting and improving couple relationships. He has been in private practice since 1998 and is married with 3 children.
Contact:
Informed Therapy Resources (ITR)
e-mail: info(at)myanxiouschild.com
http://www.myanxiouschild.com
###