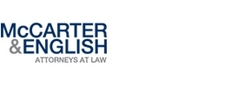 I am truly honored to receive this award from my beloved alma mater
Newark, NJ (PRWEB) April 19, 2010
McCarter & English, LLP is pleased to announce that firm partner and retired brigadier general William S. Greenberg, has been honored by his alma mater, The Johns Hopkins University, with a 2010 Distinguished Alumnus Award. The award was presented to him on Saturday, April 17, by University President Ronald J. Daniels, at the "Rising to the Challenge" event that was held in New York City at The Plaza Hotel.
More than 750 friends and alumni of the institution attended the event, which is part of a series being held in major cities in the U.S. and abroad introducing the university's president and featuring panels of Johns Hopkins faculty experts on some of today's most pressing issues. The award was created by the university's Alumni Association to honor alumni who have typified the Johns Hopkins tradition of excellence and brought credit to the university by their personal accomplishments, professional achievement, or humanitarian service.
"I am truly honored to receive this award from my beloved alma mater," said Greenberg, who is a graduate of the Class of 1964. "The university has always had a special place in my heart and is where I decided to pursue the study of law. Like many of my classmates, I've never forgotten the importance of a solid educational foundation and have tried to encompass the university's ideals and mission into my life's work. I humbly thank President Daniels and the Alumni Association for bestowing me with this award."
Greenberg has been a lawyer for more than forty years with a focus on litigation and is former President of the New Jersey Association for Justice. He established and chaired the New Jersey State Bar Association's Military Legal Assistance Program in conjunction with McCarter & English. Recently, he has devoted much of his energy to the program helping New Jersey's military reservists gain the services and benefits to which they are entitled.
Staffed by pro bono volunteer attorneys, MLA provides needed assistance to members of Reserve Components called to active duty in Afghanistan and Iraq after September 11, 2001. Together with his colleagues at McCarter, Greenberg has represented more than 50 individual soldiers at Walter Reed Army Medical Center during Medical Evaluation Board/Physical Evaluation Board proceedings. His work for the program earned him the New Jersey State Bar Association's "Medal of Honor" in 2009, the organization's highest honor, as well as the title of 2009 "Lawyer of the Year" by American Legal Media's New Jersey Law Journal.
In November, Greenberg was given the opportunity to further his support of reservists' interest, when he was appointed Chairman of the Reserve Forces Policy Board upon the recommendation of Sen. Robert Menendez.
Greenberg, who is still as an active corporate litigation partner at McCarter, served for 27 years in the Army National Guard before retiring in 1994 as a brigadier general. Since then he has served as special assistant to the Adjunct General of the New Jersey National Guard for homeland security and military legal assistance.
In addition, Greenberg is a member of the New Jersey World War II Memorial Commission and serves as the first Adjunct Professor of Military Law at the Seton Hall University Law School. He previously was a Commissioner of the New Jersey State Commission of Investigation and served since 2001 as Special Assistant to The Adjutant General of New Jersey for Homeland Security and Military Legal Assistance. Greenberg also served as Assistant Counsel to the Governor of New Jersey and as Commissioner of the New Jersey State Scholarship Commission.
Past recipients of Johns Hopkins University's Distinguished Alumnus Award have included notable figures such as Michael Bloomberg, mayor of New York City; Michelle Singletary, award-winning writer and Washington Post columnist; and Dr. Benjamin Carson, a world-renowned neurosurgeon.
To learn more about the John Hopkins University "Rising to the Challenge" event series, please visit: http://rising.jhu.edu.
About McCarter & English
McCarter & English, established 165 years ago, represents Fortune 500 and middle-market companies in their national, regional and local litigation and on important transactions. Its 400 attorneys are based in offices in Boston, Hartford, New York, Newark, Philadelphia, Stamford and Wilmington. http://www.mccarter.com
# # #