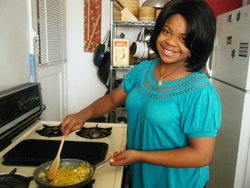 Cooking is a lost art, but it doesn't have to be. My generation can start learning to cook and eat healthy now.
Los Angeles, CA (PRWEB) April 20, 2010
Los Angeles -- Shauniece Frazier is a whiz in the kitchen – gourmet omelets and Lomo Soltado are all in a day's work for her. She routinely blogs about new and exotic dishes, shares fun snippets from the kitchen and even offers a recipe for a happy, healthy life at ChefShauniece.com. April 9, she began incorporating easy-to-follow videos in her blog and on YouTube to encourage her peers to follow in her footsteps.
Frazier has been diligently honing her culinary skills for nearly five years. It all started when her mother, Claudia Woods, was in a near-fatal car accident. Without the use of her legs and arms, Woods was unable to navigate between the stove and pantries – so her daughter took over in the kitchen with the aid of a child-safe electric skillet.
It had to be child-safe; Frazier was only nine years old at the time.
Since then, she's been cooking up a storm. At fourteen, Frazier is sharing her experiences with kids and teens all over the globe through her blog.
"I blog because I really got into cooking and decided I wanted to share my passion with everybody else," said Frazier. "I really want to encourage kids to cook."
Watching a peer whip up delectable edibles at ChefShauniece.com, kids can easily grasp the fundamentals of cooking and learn their way around the kitchen, developing self-esteem and independence in the process.
"I found that people learn more when I do something visual, and I wanted to make videos that kids could watch; if they don't want to read my blog, they can still learn by watching me," said Frazier.
In one video, she simplifies a healthy dessert of chocolate-covered strawberries; in another, she teaches kids how to prepare a cucumber and red onion salad.
Woods encourages her daughter's culinary prowess. The two make frequent trips to Surfas to add to their growing collection of kitchen gadgetry. According to Frazier, Surfas is "a cook's dream store."
Health-conscious and succinct, Frazier's blog includes comprehensive recipes, introductions to sophisticated French cooking terms and photos (which she takes herself) so other young, aspiring chefs can visualize exactly what their end product should resemble.
While she spends quite a bit of time blogging, teaching kids across the globe isn't her only goal; Frazier's dream is to attend Le Cordon Bleu, a culinary academy located in the heart of Paris. She aspires to be an executive chef and continue spreading her passion for cuisine, hoping someday to host her own television show.
In the meantime, Frazier heads straight to the kitchen after she's done with her daily homework. "My brother and his friends come over at dinner time because they know I'm cooking," she said. "They'll say, 'Are you cooking tonight, or should we go get you something to make?'"
Frazier started cooking scrambled eggs and grilled cheese when she was just nine; three years later she prepared the main course of a Thanksgiving dinner for a 30-member family. Now her repertoire includes everything from appetizers to desserts, and she even highlights money-saving tips on ChefShauniece.com.
"Cooking is a lost art," said Frazier, "but it doesn't have to be. Kids can start learning to cook and eat healthy right now."
Contact:
Claudia Woods
213-448-0213
cywoods60(at)yahoo(dot)com
Shauniece's twitter : ShaunieceCooks
Shauniece's Youtube : http://www.youtube.com/user/ShaunieceCooks
Press Release Written By :
Angie Papple
Freelance Journalist
HireAWriterOnline.com
###