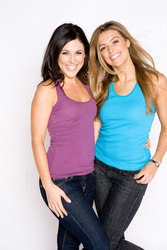 Beverly Hills, CA (PRWEB) April 20, 2010
Online video content producer, Clevver Media, is very excited to announce they've reached the 100,000 subscriber mark on YouTube with their hit original series ClevverTV. This benchmark is unprecedented for the show and firmly cements its status as the hottest entertainment news show for tweens and young adults with more than 150 million video views on YouTube alone.
Since its inception in March 2008, ClevverTV has become a leader in producing premium video content for the web. To date, more than 1,400 episodes of ClevverTV have aired. All episodes are also available on ClevverTV.com, an in-depth companion site to the ClevverTV YouTube channel that features hot photos, original news articles and contests as well.
Episodes of this popular video web series center around all things entertainment, style, and gossip – in a manner that's easy and fun to watch, and keeps viewers tuning in again and again to the 30 – 35 new episodes that air each week. Twilight, Selena Gomez, Justin Bieber, Miley Cyrus, and other topical matters that appeal to the youth market top the "must-see" list of subjects covered on ClevverTV.
The series attracts the highly desirable demographic of young adults between the ages of 13 and 24. An overwhelming seventy-two percent of the viewership is female. Young women have responded strongly to the energy and tone of the programming – especially with its unique, positive slant on entertainment news.
All content is appropriate for its younger audience – news is clean, questionable language is prohibited, celebrity bashing is verboten, and all news focuses on positivity. With its success, ClevverTV proves that there is an audience on YouTube for such content and that negativity is not necessary to net viewers.
The series has also gained momentum, in part, due to their on-air talent. Hosts Dana Ward and Joslyn Davis' lively yet grounded delivery attributes to much of the series' success. Their "news" style segments as well as "discussion" type shows allow for playful interaction with on-air guests and a platform to report breaking news as it happens.
Now with 100,000 YouTube subscribers, ClevverTV has clearly set the standard for original, high-quality, online programming. Additional accolades also include ClevverTV as a stand-out in YouTube's Top 100 Most Viewed and Top 100 Most Subscribed Directors of all time.
ClevverTV has expanded in order to reach their audience throughout the most popular social networks. ClevverTV has nearly 20,000 followers on Twitter, thousands of followers on Facebook and will be launching on MySpace in the near future.
About Clevver Media and ClevverTV
Clevver Media is an innovative video content company and an official YouTube Partner. Clevver aggregates, creates, and produces online content for its properties including Clevver.com, ClevverTV.com and the ClevverTV YouTube Channel. ClevverTV was launched in May 2008.
For more information or if you are a publicist and want to book your client for an interview on ClevverTV please contact:
Michael Palmer
Clevver Media / ClevverTV
Executive Producer
8350 Wilshire Blvd. Suite 200
Beverly Hills, CA 90211
(323) 556-0723 Office
(213) 948-0197 Mobile
press (at) clevvertv (dot) com
###