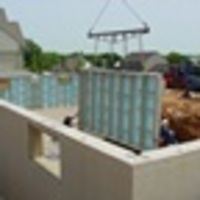 Homeowners should be actively involved in the product decisions that go into their new home construction
New Holland, PA (Vocus) April 21, 2010
Money-conscious homeowners are constantly seeking out ways to reduce their energy bills. Those consumers fortunate enough to be considering a new home purchase have a way of potentially saving up to 50 percent of total heat loss in a home simply by constructing with the right foundation system.
"Homeowners should be actively involved in the product decisions that go into their new home construction," says Jim Costello, president of Superior Walls®. "Consumers can build value from the bottom up in their new homes by using energy-efficient foundation systems. The steel-reinforced concrete panels created by Superior Walls are matched up in the manufacturing process with DOW® Styrofoam™ boards, which provide excellent rigid foam insulation. The resulting Xi™ wall panels provide an exceptionally energy efficient foundation for a home.
"According to the publication 'Native Power – A Handbook on Renewable Energy and Energy Efficiency for Native American Communities,' an uninsulated basement can account for one-third of the total heat loss in a home. This study, funded in part by the Office of Energy Research, U.S. Department of Energy and the Office of Utility Technologies, illustrates the tremendous value homeowners can achieve by shunning unheated basements and crawlspaces in favor of installing energy-efficient foundation panels."
A separate "Residential Foundation Insulation" report issued in 2000 by Kansas State University with support of the U.S. Department of Energy, suggests that the benefits of foundation insulation are often overlooked. According to the report, "heat loss from an uninsulated, conditioned basement may represent up to 50 percent of a home's total heat loss in a tightly sealed, well-insulated home."
Superior Walls insulated precast concrete wall systems have earned the Green Approved Product designation by the NAHB Research Center. Builders choosing to use Superior Walls Xi™ and R-5 foundations can now earn up to 10 points on a project toward a National Green Building Certification.
At Superior Walls, Xi wall panels are constructed with a concrete face shell, backed by 2-1/2-inches of DOW extruded polystyrene insulation. In addition, the steel reinforced concrete walls create a permanent barrier against sidewall water penetration, making the home damp proof.
Each Superior Walls panel is custom made to the specifications of an individual home, including built-in openings for windows and doors. Pre-engineered access for wiring or small plumbing elements along with smart stud facing for easy drywall installation are included and help speed up the installation process. Foundation systems generally install in a day or less by certified installation crews, making it possible for builders to begin construction within 24 hours.
The pre-cast insulated foundation systems provided by Superior Walls help homeowners save on energy bills and allow them to fully utilize their basement space as functioning and comfortable living areas in the home.
For more information visit http://www.superiorwalls.com.
Release at: http://superiorwalls.newscactus.com/newsrelease-cid-1-id-4.html
PHOTOGRAPHY: For hi-resolution images of the installation process of Superior Walls panels and installed applications, contact Kathy Ziprik at kziprik(at)aol(dot)com or 828-890-8065.
###