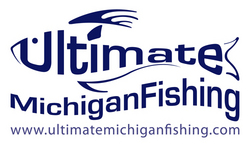 We are extremely excited to help Michigan Anglers get accurate fishing reports and up-to-date information on everything related to Michigan fishing
St. Clair, MI (PRWEB) April 20, 2010
Ultimate Michigan Fishing, LLC is proud to announce the upcoming launch of a new online community for Michigan fishing, UltimateMichiganFishing.com. The website, which is launching in mid-May 2010, will feature weekly fishing reports from across the Great Lakes, as well as Michigan's inland lakes, rivers, and streams.
The website will also feature expert columns and videos from Michigan's top anglers, exclusive monthly interviews, a member marketplace where members can post items for sale, a detailed statewide fishing tournaments and events calendar, as well as active discussion boards on fishing trends, gear, and the latest fishing information. The membership website will fill a long-time desire by Michigan anglers to have one central online source for accurate Michigan fishing reports and detailed information on all aspects of Michigan fishing.
The official launch of the website will be mid-May 2010. The site will grow with time and will also strive to add new features and information as requested by the Michigan Fishing Community. "We are extremely excited to help Michigan Anglers get accurate fishing reports and up-to-date information on everything related to Michigan fishing," said Erin Gottler, Chief Fishing Officer at Ultimate Michigan Fishing, LLC.
UltimateMichiganFishing.com will have a tent at the 2010 Blue Water YMCA Salmon Stakes tournament near the final fish weigh-in station. Visitors and anglers are encouraged to stop by the tent for more information on the upcoming launch of the online community, along with early bird registration details, and some free giveaways. "We are happy that Ultimate Michigan Fishing chose to announce the launch of their new website at this year's Blue Water YMCA Salmon Stakes Tournament. We look forward to their sponsorship of this event, as well as their help in hosting more tournaments for Michigan anglers in the future," remarked Jim Frazer, Committee Chairman of the 2010 Blue Water YMCA Salmon Stakes Tournament.
Hosted by the Blue Water Sportfishing Association, the 2010 Blue Water YMCA Salmon Stakes is on Saturday, April 24, 2010, and is one of the largest salmon fishing tournaments in the Great Lakes. With over $5,000 in prize money and $15,000 in raffle prizes, the tournament also has interactive activities all day for the family and kids. The tournament weigh-in and events are held at The Voyageur on the St. Clair River in St. Clair, Michigan.
"We encourage those in the area on Saturday, April 24th to come to the Voyageur in St. Clair to not only stop by to see us, but also participate in the tournament events for anglers, as well as lots of fun events for families and kids," stated Gottler.
About Ultimate Michigan Fishing, LLC:
Ultimate Michigan Fishing, LLC is a privately held organization founded in February 2010 to service the Michigan fishing community. The primary business for the company is UltimateMichiganFishing.com, which is an on-line membership community. The online website focuses on supplying weekly fishing reports for the state of Michigan, along with additional information related to Michigan fishing. Ultimate Michigan Fishing, LLC is developing additional websites to cater to Michigan charter fishing captains, as well as a Michigan fishing tournament schedule. Ultimate Michigan Fishing, LLC, is led by Erin Gottler, Chief Fishing Officer.
MEDICA CONTACT:
Erin Gottler
Chief Fishing Officer
Ultimate Michigan Fishing, LLC
P.O. Box 193 | St. Clair, MI 48079
(800) 395-0165 | erin (at) ultimatemichiganfishing (dot) com
###