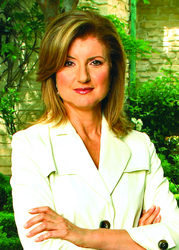 "We have assembled top leaders to not only engage in this critical discussion, but to provide solutions to reclaim civility to create stronger communities."
Atlanta, GA (PRWEB) April 19, 2010
Recently named one of the most influential women in media by Forbes, Arianna Huffington, co-founder and editor-in-chief of The Huffington Post, will weigh in on "Building Civil Communities for Change," as she presents the keynote address at the sixth annual Spelman College Leadership and Women of Color Conference, May 12 and 13 in Atlanta.
Huffington will discuss the media's role in promoting and fostering civility. This is a key topic at this year's conference which explores the importance of civility in strengthening America, community by community, work force by work force, and leader by leader. Angela Burt-Murray, editor-in-chief, Essence, and Mimi Valdés, editor-in-chief, Latina, will participate in a panel discussion on the importance of women in building and sustaining civil societies.
"Now, more than ever, there is a need for frank and candid dialogue about why we are experiencing more frequent occurrences of incivility and intolerance," said Jane E. Smith, executive director, LEADS at Spelman College. "We have assembled top leaders to not only engage in this critical discussion, but to provide solutions to reclaim civility to create stronger communities."
Organized by LEADS, the conference will also examine how to leverage civility to better the workplace as well as review case studies that demonstrate civility as one of the guiding principles of leadership. Private and public sector thought leaders, from multicultural communities, will provide critical research, proven strategies and best practices for creating and sustaining authentic and ethical leadership.
Sara Manzano-Diaz, director, U.S. Department of Labor's Women's Bureau will address attendees as the premier speaker at the "Legacy of Leadership Awards" dinner. At this signature conference event, individuals and organizations that serve as role models for civil leadership practices will be honored. This year's honorees include:

Ann Wilson Cramer, former director for Corporate Citizenship and Corporate Affairs, IBM
Lani L. Wong, chair, Atlanta Chapter, National Association of Chinese Americans
Elisabeth Omilami, executive director, Hosea Feed The Hungry and Homeless
Delta Airlines
The two-day event, being held at the Hyatt Regency and Spelman College, offers networking opportunities for multicultural executives, human resources leaders, diversity managers, community and civic leaders, as well as representatives from across a broad range of the public and private sectors. For a complete list of speakers, registration, and schedules please visit http://www.spelmanwomenofcolorconf.com. Attendees can also follow the conference on Facebook and Twitter.
About Spelman College
Founded in 1881, Spelman College is a prestigious, highly selective, liberal arts college that prepares women to change the world. Located in Atlanta, Ga., this historically black college boasts a 79 percent graduation rate, and outstanding alumnae such as Children's Defense Fund Founder Marian Wright Edelman; former U.S. Foreign Service Director General Ruth Davis, authors Tina McElroy Ansa and Pearl Cleage; and actress LaTanya Richardson. More than 83 percent of the full-time faculty members have Ph.D.s or other terminal degrees, and the average faculty to student ratio is 12:1. More than 2,100 students attend Spelman. For more information, visit http://www.spelman.edu.
About LEADS at Spelman College
LEADS at Spelman College builds on the legacy of the private, historically Black institution by creating and teaching a leadership model based on the historic influences, experiences and achievements of Black women worldwide. Through a variety of campus-based student initiatives, community and public programs, LEADS supports Spelman women's choice to change the world by preparing them to be effective global leaders. For more information, visit http://www.spelman.edu.
###