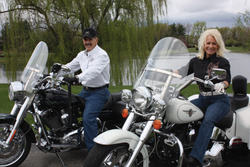 "To receive such an award is humbling and we are grateful to be recognized for what we have done and shall continue to do for motorcyclists," Randy Sevenish
Indianapolis, Indiana (Vocus) April 20, 2010
Randy & Regina Sevenish of Sevenish Law Firm recently received a National Recognition Award for Outstanding Service to Motorcyclists – 2010. The award was presented by RoadGuardians.org a division of Accident Scene Management, Inc. (ASMI). RoadGuardians.org is aimed at reducing injuries and fatalities to motorcyclists by Promoting Safety on the Road.
The Road Guardian Program encourages bikers to become life long learners through incentive and recognition programs. RoadGuardians has researched and determined Sevenish Law has been actively involved in education and safety issues in Indiana for many years and has requested Sevenish Law to partner with them due to common interests. As a result, Sevenish Law is the only "Recommended" law firm of RoadGuardians for the State of Indiana. Executive Director of ASMI, Vicki Sanfelipo explained, "we hold ourselves and those we associate ourselves with to high standards and we were thrilled to find the Sevenish Law Firm to partner with".
During the 1st Annual "Biker's Betterment Conference" held in Chicago in March, 2010 and sponsored by Road Guardians, Randy Sevenish, motorcycle injury lawyer and his wife Regina, Director of the Justice on Wheels Program, the education & safety division of Sevenish Law, were recognized for their contributions on behalf of fighting for freedom of motorcyclists through their numerous educational and safety programs – all at no charge.
One example of the firm's commitment to education is evidenced in their recent production of a series of FAQ videos about motorcycle accident law that can be found on their YouTube channel.
Mr. Sevenish said, "We are honored to be asked to be associated with Road Guardians, truly caring educators and pioneers in their field to include its Co-Founders Vicki Sanfelipo and Chris Hawver. They, like us, have chosen to make it our mission in life to help, educate and serve bikers and motorcyclists without expectation of reward or payment. And coming from them, to receive such an award is humbling and we are grateful to be recognized for what we have done and shall continue to do for motorcyclists."
Bikers and motorcyclists are encouraged to attend future "Biker Betterment Conferences" and to take advantage of the free, educational programs offered both by RoadGuardians.org and by Sevenish Law as well at http://www.SevenishLaw.com and http://www.JusticeOnWheels.com.
Sevenish Law Firm, Injury Lawyers, principal office is based at 251 East Ohio Street, Suite 880, Indianapolis, IN 46204. The firm handles personal injury claims including serious injuries, automobile accidents, motorcycle accidents, and truck accidents throughout the state of Indiana. http://www.SevenishLaw.com.
Contact: Regina Sevenish
Telephone Number: 317-636-7777
Email Address: Regina(at)sevenishlaw(dot)com
###