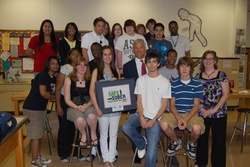 "I am a true believer that unless the future generations turn out better than ours, that both have failed. So, we each have an obligation to do our part in order to succeed," David Daggett
Winston Salem, NC (Vocus) April 20, 2010
Winston-Salem, N.C. (Vocus) -- Encouraging high school students to stay drug and alcohol free on prom night certainly sounds like a fine idea, a noble undertaking if you will. Increasing awareness and encouraging positive peer pressure in an effort to reduce underage drinking and driving just might make a difference.
The attorneys and staff at Daggett Shuler certainly think so. That's why David Daggett and Griffis Shuler are excited to promote the non-profit organization, Safe Sober Prom Night, which David helped create in 1991.
Now in its 20th year, the Safe Sober Prom Night campaign is going strong, stronger than ever, in fact. Participating students are given incentives to keep their commitment, including scholarships and a chance to win $1,000 for their schools.
What began as a local program involving a few area high schools has expanded into the Triad region. Teams of attorneys and staff from the firm personally visit approximately 35 area high schools encouraging students to sign the pledge, distributing student-designed T-shirts, and speaking to the students. More than 400,000 students have signed the campaign's "Do It Right!" pledge. Students can also take the pledge online at http://www.safesober.com/prompledge.
"Positive messages to our youth ensure the quality of our community for years to come," says David Daggett. "Many students really don't need a lot to be influenced. A kind smile or word of encouragement will make their day. For some, an arm around the shoulder with a twinkle in the eye will do the trick. We love being with the students, and they seem to enjoy being with us too."
This year, Daggett Shuler is personally paying for, delivering, and distributing more than 10,000 T-shirts to high school students in the Triad area, and is making them available to all high schools throughout the Carolinas.
"I have personally spoken hundreds of times to thousands of students," Daggett said. "We are always impressed with the positive engagement from young people. They want to do the right thing, but many times need leadership to take them there. They need messages from folks in uniform, teachers, parents, and even guys in coats and ties. Somehow we can get through and make a difference."
"I am a true believer that unless the future generations turn out better than ours, that both have failed. So, we each have an obligation to do our part in order to succeed."
That obligation, Daggett added, extends far beyond prom night. "This isn't just a program against drugs and alcohol, but also an avenue to let us have a positive and influencing impact on teens in our community," Daggett said. "Every now and then we see clear evidence that our team has influenced positive change in students.
"Interestingly, you just never know when you might be having a transforming impact on someone else. This can take many forms – a single act of kindness, continuous mentoring, or a special gift or calling. We may not ever even know the impact we have had – that's one reason why we have to just keep on doing it!"
"When you transform a life you know you have made a lasting difference – it can't get any better than that!"
Daggett Shuler, Attorneys at Law, principal office is based at 2140 Country Club Road, Winston-Salem, NC 27104. The firm handles personal injury claims including serious injuries, automobile accidents, workers' compensation and social security disability. http://www.DaggettShulerLaw.com
Contact: David D. Daggett
Telephone Number: 336-724-1234
Email Address: DDaggett(at)DaggettShulerLaw(dot)com
###