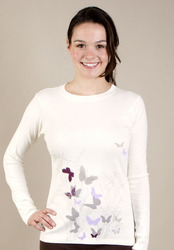 "It's not enough to just be green, organic or sustainable in the apparel market. What distinguishes our brand is the quality and comfort of our garments and the ability to consistently produce a stylish collection of high quality fashion essentials."
Los Angeles, Calif. (PRWEB) April 21, 2010
Popular organic apparel maker bgreen apparel, a division of NatureUSA, a leading source for certified-organic cotton apparel, has launched its Summer 2010 collection for men and women. Drawing inspiration from soil, air and water, the collection offers a vibrant color palette of solids and abstract prints. Both lines are available beginning April 15th. For more information on bgreen apparel's Summer 2010 collection, please visit http://www.bgreenapparel.com.
bgreen apparel is part of a small group of U.S. apparel manufacturers that is GOTS (Global Organic Trade Standard)-certified.
"bgreen apparel is continuing its commitment to creating high quality essential basics and superb fits. The styles in this collection are not only perfect staple items for your wardrobe, but are helping to save the environment by eliminating harmful chemicals and reducing water and energy use," says Mike Farid, bgreen apparel's VP of Design, Sales and Marketing.
The GOTS quality assurance system is based on on-site inspection and certification of the textile processing and trade chain. In particular operators from post-harvest handling up to garment making as well as traders up to the import stage have to undergo an on-site annual inspection cycle and must hold a valid certification as prerequisite in order for final products to be labelled as GOTS certified.
Processors and manufacturers that receive a GOTS operational certification have demonstrated to the assigned certifier that they are able to work in compliance with all applicable GOTS criteria in the fields of operations and for the product groups shown on their certificate. They may then accept orders for GOTS compliant processing / manufacturing in their certified scope. Accordingly certified exporters-, importers and traders are authorised to trade GOTS textile products that belong to the scope of their granted certification.
"It's not enough to just be green, organic or sustainable in the apparel market," he added. "What distinguishes our brand is the quality and comfort of our garments and the ability to consistently produce a stylish collection of high quality fashion essentials."
bgreen apparel's Summer 2010 collections feature tank tops, graphic T-shirts, hoodies, bottoms, loungewear, yogawear and sexy underwear. Soulful and carefree, the collections are infused with a vibrant color palette, lending a relaxed Summer vibe. Styles are available in S, M, L, XL.
***With wholesale price points ranging from $6 to $40, the collections can be ordered online at http://www.natureusa.net
***With retail price points ranging from $12 to $80, the collections may be purchased online at http://www.bgreenapparel.com. bgreen apparel is also sold at specialty retailers in US and Canada.
For more media requests, please contact Claudia Schou at claudiaschou(at)yahoo(dot)com or call (562) 983-8139.
ABOUT BGREEN APPAREL
Launched in 2002, bgreen apparel is a division of NatureUSA, a leading source for certified-organic cotton apparel that provides private label sustainable apparel for well-known brands such as Patagonia. Bgreen apparel produces eco-friendly clothing that look good, fit comfortably and leave the world a better place. Stylish and durable, bgreen's Classic Organic Essentials offer a fresh and eco-friendly alternative to your wardrobe staples. Using domestic and imported organic cotton, Bgreen's garments are manufactured (fabric, cut & sew, printing, packaging) at its facility in Rancho Dominguez, California. As a result, bgreen has the ability to respond to quick turn-around orders. The apparel maker's focus on quality fabrics, attention to detail and dedication to the environment has earned it a reputation as a premier domestic manufacturer. For more information, please call (310) 667-9030 or visit our web site at http://www.bgreenapparel.com.
# # #