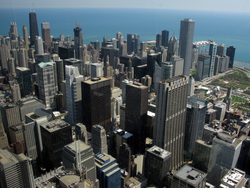 Villa Park, IL – Villa Park Mixed-Use, Ardmore Avenue and Vermont Street, 200-unit mixed-use development with 25,000 square feet of commercial space, May 2010, $40 million
Chicago, IL (PRWEB) April 20, 2010
BidClerk, the Construction Industry Search Engine, reported today that the following building projects are planning to go out for bids and start construction in the next 90 days in the Chicago, IL Metro Area. Businesses interested in providing services relative to these projects should visit http://www.BidClerk.com and reference the Project ID listed below to obtain direct contact information and project requirement for each job:
Chicago, IL – Peace Corner Youth Community Center, 5022 W. Madison Ave., 7,900-square-foot community center, June 2010, $1.8 million. Project ID: 1217662
Chicago, IL – New Mom's Facility, 50,000-square-foot multi-residential building, May 2010, $5 million. Project ID: 1209020
Chicago, IL – West End at Jackson Square – Phase II, 300 S. Western Ave., 235-unit multi-residential development, June 2010, $18 million. Project ID: 846827
Hanover Park, IL – Hanover Square Shopping Center, Barrington Road and Maple Avenue, 113,000-square-foot shopping center renovation, May 2010, $6 million. Project ID: 994925
Villa Park, IL – Villa Park Mixed-Use, Ardmore Avenue and Vermont Street, 200-unit mixed-use development with 25,000 square feet of commercial space, May 2010, $40 million. Project ID: 902277
Orland Park, IL – Smith Village – Phase II, 10501 Emile Ln., 200,000-square-foot assisted living facility addition, August 2010, $35 million. Project ID: 1154730
Tinley Park, IL – Metra Station, Peterson Avenue and Ridge Avenue, 7,000-square-foot transit station, June 2010, $5 million. Project ID: 1124882
Wheeling, IL – Fresh Farms Shopping Center, Dundee Road and Milwaukee Avenue, 60,000-square-foot retail development, May 2010, $5 million. Project ID: 842024
About BidClerk.com
BidClerk.com is the only Search Engine dedicated to providing businesses with in depth information on thousands of construction projects coming up for bid all throughout the United States. Our daily updates of commercial and residential construction projects are available to contractors, sub-contractors, general contractors and businesses in related industries that are seeking construction bid opportunities. For more information on bidding construction projects in your area, visit BidClerk online or call 877-737-6482.
###