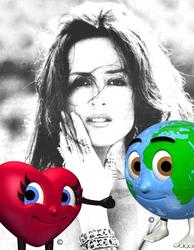 Jersey City, NJ (PRWEB) April 21, 2010
Liberty Science Center today announces an integrated eco-friendly program on Saturday, April 24 featuring Maria Snyder's Eco Boys and Girls™, created and inspired by visionary top model, fashion designer, eco-pioneer and artist, Maria Snyder, world renowned for her green sensibility and innovative integration of recyclable materials into her designs.
On April 24 at 2:00 p.m., the nation's leading pro-environment advocates and their children will make a special appearance at Liberty Science Center to herald the Eco Boys and Girls Earth Week Celebration. Dr. Emlyn Koster, president and CEO, Liberty Science Center will emcee this event. Dr. Noel J. Brown, CEO of Friends of the United Nations, will officially welcome Eco Boys and Girls, "The Millennium Kids," to become the youngest friends of the United Nations, sharing the mission of building awareness of the "UN Millennium Goals." Friends of the United Nations, an independent, non-partisan, organization dedicated to promoting the principles and values of the United Nations Charter and increasing awareness of its activities, has officially endorsed Eco Boys and Girls, the Millennium Kids.
Young people will be able to participate in an environmental discovery hunt, interactive exhibits, and activities such as "Make a Pot, Plant a Seed" using .using recycled newspaper.
Eco Boys and Girls -- a short animated film written and created by Maria Snyder -- premieres on Earth Day and will be shown at the Science Center on Saturday. The short film features five fun and colorful large scale animated characters: Ernie Earth©, Lulu Love©, Patsy Peace©, Ray Recycle© and Sammy Sun.© The film, shown on large screens throughout Governor's Hall in Liberty Science Center on Saturday, encourages children to explore the Center's environmentally informative exhibitions. Additionally, http://www.ecoboysandgirls.com as well as http://www.lsc.org will be information destinations.
"I created Eco Boys and Girls to give kids 'eco heroes' that they can learn from and have fun with," says Snyder. "My hope is that this engages America's young generation, empowers them to take ownership of the world we live in and enjoy learning about the environment. It's important that children at a young age recognize the part they can play in being environmentally responsible."
"Children hold the keys to an improving future for Planet Earth and it is never too early to impress upon them the necessity of conserving, recycling and respecting the resources we share," says Dr. Emlyn Koster, president and CEO, Liberty Science Center. "We are delighted to partner with Maria Snyder, an energetic eco-pioneer in the world of fashion, on the launch of Eco Boys and Girls. Her characters bring to life core societal and environmental issues in an attractively playful manner."
About Liberty Science Center (Lsc.org)
Dedicated to providing transformative experiences that connect schools and society with science and technology, Liberty Science Center is the New Jersey-New York City region's largest education resource. Motivated by an innovative philosophy and enabled by a $109 million expansion and renewal, Liberty Science Center is bringing the excitement of science to students, educators, families and adults in engaging new ways and establishing a progressive benchmark for the science center field.
About Maria Snyder (MariaSnyder.com)
Raised in Maine in a family of entrepreneurs. Snyder has long integrated pro-environment messages and recycled materials into her bold fashion statements. Snyder is recognized as a visionary trend setter as one of the first to bring a pro-environment stance to her exceptional design initiatives. Early on, as one of Yves Saint Laurent's chosen models, her international modeling career led to collaborations with legendary designers. Her unique couture designs have been collected by some of the world's most famous women. Now acclaimed as a "Leader for a New Generation of Artists for Peace," her art is showcased internationally.
###