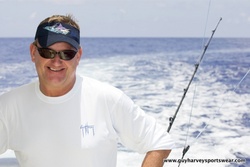 Win a $500 Shopping Spree at Guy Harvey Sportswear's official online store
Irvine, CA (PRWEB) April 21, 2010
GuyHarveySportswear.com, the official online store for Guy Harvey fishing t shirts, fishing clothing, and coastal lifestyle apparel, announced today it is hosting a $500 shopping spree sweepstakes running until May 31, 2010. Sign up for their email newsletter and you will be automatically entered. The winner will receive a $500 gift card to purchase clothing and accessories at the GuyHarveySportswear.com online store.
The contest is open only to US residents 18 and older, who subscribe before 12 midnight PST on May 31, 2010. No purchase is necessary to win. To enter, go to http://www.guyharveysportswear.com/shopping_spree.htm, read the official rules, and enter your email address in the form provided. Winner will be determined by a random drawing to be held on June 7, 2010 at AFTCO/Guy Harvey Sportswear headquarters.
Guy Harvey's famous marine wildlife artwork, previously only seen on wildly popular fishing t shirts for saltwater fishing fans, is now seen being worn not only by fishermen, but by men and women, and now college students, teens and even young kids. And most recently Guy Harvey's artwork is showing up as fine jewelry on beautiful swimsuit models like Brooklyn Decker and Anne V in the recently released 2010 Sports Illustrated Swimsuit Issue.
About Guy Harvey Sportswear
Guy Harvey Sportswear represents a full line of high quality fishing t shirts featuring Guy's extraordinary detailed paintings of big game fish like marlin, sailfish, tuna and more, in addition to other men's fishing clothing like tech and performance shirts, fishing shorts, fishing hats, belts, shoes, and sandals. There is also a wide selection of Women's coastal lifestyle clothing including dresses, skirts, shorts, tops, and more, in addition to popular new Junior's and Young Men's t shirt lines featuring more youthful designs. Guy Harvey Sportswear is manufactured by AFTCO Manufacturing Co, Inc. and is available at many retail locations, as well as online at http://www.guyharveysportswear.com. Retail locations are listed at the site. Check out the blog at http://www.guyharveysportswear.com/blog.
Media Contact:
Laura Hernandez
laura (at) aftco (dot) com
949-660-8757
###