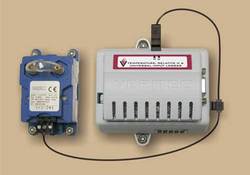 This allows you to feel confident in the integrity of your data
Vancouver, British Columbia, Canada (Vocus) April 21, 2010
Pharmaceutical, biotechnical and critical environment quality managers who maintain absolute cleanroom conditions can now ensure gap-free records for temperature, relative humidity and differential pressure with the viewLinc™ 3-in-1 monitoring solution. (http://www.veriteq.com/cleanroom-monitoring/index.htm) Ken Appel, Marketing Manager, Regulated Markets for Veriteq (now part of the Vaisala Group) notes the key objective of the viewLinc™ cleanroom monitoring system is to protect products and to maintain cGMP (Current Good Manufacturing Practice) to meet FDA requirements. Appel explains what sets the system apart from other cleanroom environmental monitoring equipment: "With viewLinc, a continuous record of data is always available—even during network interruptions."
Many cleanroom facilities have traditionally used chart recorders to track conditions. "Unfortunately, chart recorders are vulnerable to mechanical problems and other issues like overwritten charts, dry pens, or failure during power outages, which results in data gaps," says Appel. "Even more problematic is the fact that most chart recorders lack methods for remote alarming when conditions go out of tolerance." Over the last few years an increasing number of cleanrooms have begun to use data loggers for monitoring critical environments. However, Appel says that the accuracy of many devices is not sufficient for GxP environments.
"The problems start when the loggers are recalibrated and it's discovered that a sensor drifted out of spec. But the question is: how long has the sensor been out? And what products or processes were affected in the interim? These are hard questions no Quality or Regulatory professional wants to have to answer." By contrast, viewLinc's data loggers are the only monitoring devices to state measurement accuracy for one year post deployment. "This allows you to feel confident in the integrity of your data," states Appel.
Another major advantage of the viewLinc solution is a significant savings in total cost of ownership because the system can be installed on any existing network via Ethernet, PoE (Power over Ethernet), WiFi or any combination. Other benefits include:

Secure, gap-free records for regulatory compliance. A 10-year battery and secure data backup on each logger—
at the point of measurement—ensures that data is complete, even in event of network or power outage;

Regulatory requirement assurance with secure audit trail for 21 CFR Part 11 and other international regulations;
1-year stable measurement accuracy to ±1%RH and ±0.10ºC and resolution of 0.05%RH and 0.02ºC (at 25ºC).
Additional information on viewLinc's cleanroom solution can be found at: (http://www.veriteq.com/cleanroom-monitoring/index.htm)
Veriteq, a Vaisala company
Veriteq is a part of Vaisala, global leader in environmental and industrial measurement. With solutions that deliver fail-safe records for temperature, humidity and other critical variables we provide high performance measurement products for validating and monitoring FDA-regulated and other critical environments. http://www.veriteq.com. For more information: Chuck McFarlane, North America Sales Manager, cmcfarlane(at)veriteq(dot)com 800 683 8374 (North America), 604 273 6850 (International)
About Vaisala
Vaisala is a global leader in environmental and industrial measurement. Building on more than 70 years of experience, Vaisala contributes to a better quality of life by providing a comprehensive range of innovative observation and measurement products and services for meteorology, weather critical operations and controlled environments. Headquartered in Finland, Vaisala employs over 1400 professionals worldwide and is listed on the NASDAQ OMX Helsinki. http://www.vaisala.com For more information: Pirjo Kortteisto, Director, Cleanrooms & Chambers, tel. +358 40 7683 826, or Liisa Ahtiluoto, Communications Manager, tel. +358 40 730 7695
###