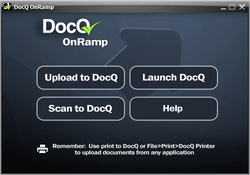 "We initially planned on charging for this product, but soon realized that giving users this capability for free helps the adoption of digital documents. While this does not drive immediate revenue, this strategy will pay dividends if we achieve a fracti
Plano, TX (PRWEB) April 20, 2010
Docudesk has announced the immediate availability of its scan to web software application, DocQ Onramp. With scan to web functionality users can quickly capture physical paper documents and electronically convert them for other purposes.
Scanning documents to the internet provide a great way to streamline their day to day business greatly eliminating their reliance on faxing and overnight shipping. When utilized with Docudesk's DocQ platform, users can securely manage and remotely access a virtual mountain of paper from any computer or mobile phone (including dedicated iPhone app).
A few of the things that can be accomplished with our Scan to Web software include:

Neatly filling out forms and applications using DocQ typewriter tool
Applying a legally binding e-signature to a document
Making comments, highlights, and annotations and sharing for review.
Securely sending a form or contract to a recipient with form contents & signatures
Backing up important physical documents online
"We initially planned on charging for this product, but soon realized that giving users this capability for free helps the adoption of digital documents. While this does not drive immediate revenue, this strategy will pay dividends if we achieve a fraction of the success we have had with our PDF trialware downloads. DocQ Onramp is 100% free and is not a trial version. Users can use it completely unrestricted and can store up to 100 documents in DocQ at no cost," states Brent Gaynor, VP of Marketing.
Scan to DocQ Web Features:
Page Management including page deletion, rotation, and insertion.
Add local scanned documents and images to existing scanned project.
Scan documents to PDF and save locally
Integrated DocQ printer for "printing" documents from any application directly to DocQ
Works with and single and page feed scanner using TWAIN or WIA drivers
Free trial of deskPDF Professional
No pop-ups or advertising
Currently only available for Windows. Mac version is planned for end of summer. Download the DocQ scan to web application is available here: http://Docq.com/widgets/scan-to-web
For volume pricing, current promotions, or contact information, please visit DocQ.com
###