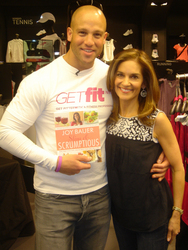 "GETfit and FITTERWITH.com are all about instantly receiving personalized guidance from a fitness expert. Not everyone can afford to hire a fitness professional but I believe everyone should be able to ask a question," explains Jeff Halevy.
New York, NY (PRWEB) April 20, 2010
GETfit, the national event series that brings together people seeking fitness guidance with fitness professionals, held its second event New York City event Sunday, April 18th at the Adidas Sport Performance Store. An even greater success than the first NYC installment in January, a team of about 30 local fitness professionals - nutritionists and trainers - gave the upwards of 1,000 attendees all the personal guidance they need to get fit, for free.
Nutritionist and bestselling author ("Your Inner Skinny" and the newly launched "Slim and Scrumptious") Joy Bauer returned to headline the event for the second time in a row; nutritionist and creator of The F-Factor Diet Tanya Zuckerbrot, M.S. R.D. co-headlined and spoke for the first time; and celebrity trainer Jeff Halevy, who conceptualized and implemented GETfit, were all on hand, along with representatives from prestigious fit lifestyle brands including Adidas, Flywheel Sports, vitaminwater, Pirate Brands (makers of Pirate's Booty), PopChips, VitaCoco and ISAGENIX to serve as a live, in-person "fitness hotline" for event-goers.
"GETfit is a fabulous event and a wonderful opportunity to interact with New Yorkers who are passionate about being healthy. This was my second time there and it becomes more fun with each installment," says Joy Bauer.
Celebrity trainer and FITTERWITH CEO Jeff Halevy launched GETfit as the live counterpart to FITTERWITH.com, which launched in beta earlier this month. Like GETfit, FITTERWITH.com is dedicated to helping people get "fitter with" the assistance of fitness and nutrition professionals by delivering targeted information and connections that are instant, interactive, personalized and free. The site and the live event series revolutionize the fitness industry by creating the only platform for the public to get personalized fitness guidance, and for fitness professionals to find and help clients seeking their services - ending fitness frustration.
"GETfit and FITTERWITH.com are all about instantly receiving personalized guidance from a fitness expert. Not everyone can afford to hire a fitness professional but I believe everyone should be able to ask a question," explains Jeff Halevy. "This process gives the consumer access to valuable information and also gives fitness professionals the unique opportunity to build lasting relationships with those clients they are best suited to help."
GETfit events will provide live, hands-on, personalized information and guidance needed to reach diet and exercise goals. With Los Angeles and Chicago events slated for 2011, the semi-annual event series will continue to expand across the country into top US cities.
About FITTERWITH
FITTERWITH.com is a revolutionary new web site and virtual community where users have free, instant access to the diet and exercise information they want, eliminating fitness frustration. Unlike any other web site, FITTERWITH.com provides users with a forum to talk instantly to live experts, an extensive database of fitness professionals to find those best suited to their individual needs, and a library of how-to videos they can watch for free.
FITTERWITH.com was created by New York City celebrity fitness trainer and founder of Halevy Fitness, Jeff Halevy, to give everyone, regardless of socio-economic status, the chance to consult with a fitness professional and to help those interested in hiring a personal trainer or nutritionist streamline that process. FITTERWITH.com is the venue for millions of people to meet daily to discuss their fitness and nutritional needs, and know that personalized expert advice is just a keystroke away when they need it.
GETfit is a live, interactive event series that invites fitness-seekers to meet face-to-face with some of the area's top fitness professionals, bringing the FITTERWITH.com experience to life in 11 cities. Check back to see when a GETfit event is coming to a city near you!
About Jeff Halevy
Jeff Halevy is a New York City-based fitness trainer, personal coach and President and Founder of Halevy Fitness and FITTERWITH. His passion for helping clients achieve complete wellness transcends traditional weight loss. Jeff's unique approach to life change and personal development enables him to help clients achieve their fitness goals, but to also work with them in a therapeutic sense to successfully quit smoking, attain peak work performance, overcome eating disorders and phobias and more.
Jeff's career in fitness began as Managing Director of one of New York City's most exclusive private health clubs where he trained some of the city's most influential business titans and professional athletes. After venturing out on his own and establishing the successful Halevy Fitness, where clients have access to his innovative personal training and coaching service, Jeff created FITTERWITH. FITTERWITH is a revolutionary web site designed to foster live, interactive, personalized connections between top fitness professionals and consumers for free. The launch of the biannual event series, GETfit, in January 2010 transformed the excitement of FITTERWITH into a live event.
Jeff is certified by the National Academy of Sports Medicine for fitness training and by the Neuro-Linguistic Programming Center of New York for his coaching and therapeutic work. Jeff graduated Magna Cum Laude from New York University with the additional distinction of Founder's Day Scholar. Jeff works with several non-profit organizations, notably Derek Jeter's Turn 2 Foundation, where he has introduced fitness and training concepts to children in New York City; The Jorge Posada Foundation; and the Southampton Hospice.
For more information about Halevy Fitness, visit http://www.HalevyFitness.com
For more information about FITTERWITH, visit http://www.FITTERWITH.com
###