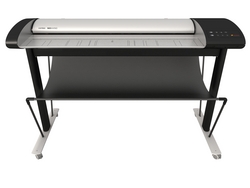 "Contex's customer-centric approach enables us to deliver state-of-the art technologies that continue to exceed expectations and allows our users to more efficiently complete the tasks they need to do with our products," Phil Magenheim, president & COO
Herndon, VA (PRWEB) April 21, 2010
Contex, the world-leading developer of wide-format scanning and imaging solutions, today announces that it will exhibit several new scanning solutions at AIIM Expo 2010, booth #2339, in Philadelphia, April 20–22. At the Expo, Contex will debut the market's first 24" multi-function solution, the XD2490 MFP. Introduced last fall at a ground-breaking price of less than $4,000, the XD2490 scanner revolutionized the market place, allowing many users who had previously considered a wide-format scanner to be unaffordable to reconsider that decision. Now, with the XD2490 scanner as part of an MFP solution, customers can obtain a wide-format scan, print, copy, and share system for less than $8,500 with a printer.
At AIIM, Contex will also release new solutions and software updates to its dealers' product portfolio, including an indexing and archiving solution, EDA, and WiseImage 11, an image processing tool. Special pricing for both software tools, when purchased with a Contex scanner, will be available until June 2010. In addition, all visitors to Contex's booth can enter to win a $200 Apple gift card.
"Contex's customer-centric approach enables us to deliver state-of-the art technologies that continue to exceed expectations and allows our users to more efficiently complete the tasks they need to do with our products," affirms Phil Magenheim, president and COO of Contex Americas Inc. "This year's AIIM Expo provides visitors with an excellent opportunity to speak with our scanning experts and to experience these award-winning scanning solutions first-hand."
Businesses large and small turn to Contex for its innovative technology and advanced scan and copy software tools. Its award-winning wide-format scanners—XD2490, SD series, HD series, and MFPs—provide a full range of image capture solutions. This month, the SD4450 scanning solution received a Top Products Award from the readers of Wide-Format Imaging magazine, marking Contex's second recent win from the publication. The award-winning scanner will be featured in the April 2010 issue of the magazine.
###