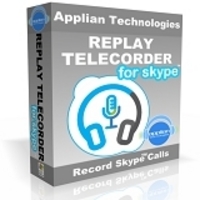 San Anselmo (Vocus) April 20, 2010
Applian Technologies today announces the release of Replay Telecorder for Skype™' a simple to use video/audio recorder for all Skype calls. Replay Telecorder's simple one-click recording process is geared to the more than 22 million daily Skype users who rely on Skype to stay in touch with friends and family but who aren't necessarily computer savvy.
Replay Telecorder offers the user a choice of six different call recording options from an easy to access drop-down menu. These recording options are: audio only, picture in a picture, side-by-side video, recording just the local video, recording just the remote video or recording the call as two separate files. Replay Telecorder for Skype downloads the audio/video of the call (verses using a screen capture method) so the recorded file offers a perfect digital reproduction of the call experience.
In addition to recording regular Skype calls, Replay Telecorder can capture video chats, conference calls and Skype voice mail. The recorded file is saved in the AVI format which can easily be played back using Windows Media Player.
Replay Telecorder for Skype works on any PC running Windows 7, XP or Vista with Skype installed. Customers can purchase Replay Telecorder now for $29.95 from the Applian Technologies Inc. web site at http://www.applian.com.
About Applian Technologies:
Applian Technologies, started in 2000, is a privately held company based in Marin County, California. Applian creates affordable, easy to use, recording, conversion and editing software for streaming media enthusiasts. Their software currently requires a PC running Windows. Other Applian software includes Replay Media Catcher, Replay Music, Replay Converter, Replay AV, Replay Video Capture and the Replay Capture Suite. Learn more about Applian products at http://www.applian.com.
# # #