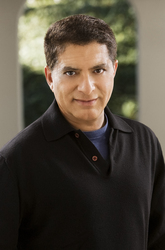 Seduction of Spirit is 6 days of meditation in Sedona's mystical Red Rocks.
Sedona, Arizona (PRWEB) April 21, 2010
This August 22–28, best-selling authors, mind-body healing pioneers, and Chopra Center co-founders, Deepak Chopra and David Simon, will present Seduction of Spirit –– the world's longest-running meditation experience.
"Seduction of Spirit has been one of our most popular programs for more than a decade, offering people an opportunity to step away from their daily pressures and immerse themselves in a week of deep meditation and spiritual awakening," said David Simon.
"We're very excited about offering Seduction of Spirit in the mystical setting of Sedona. For thousands of years people have been drawn to this area's subtle energy and spiritual beauty . . . finding that its calming atmosphere deeply facilitates contemplation, healing, and meditation," Simon added.
"Every year the Chopra Cente r travels throughout the world and chooses the most beautiful locations to host six days of meditation," said davidji, dean of Chopra Center University. "We've chosen the Enchantment Resort, right in the heart of one of Sedona's fabled vortexes. Those who join us for this special event will experience Sedona's gentle healing energy and soak in the peace and silence of the ancient Red Rocks as they learn practices for deep meditation."
Ranked by Travel and Leisure Magazine as one of the three best resorts in the U.S., the Enchantment Resort, boasting luxury accommodations, a full spa offering ayurvedic and Native American healing massage treatments, and award-winning restaurants.
Each day at Seduction of Spirit, guests will meditate in the natural beauty and tranquility of the Red Rock Mountains, connect to the primordial energy of the earth during Seven Spiritual Laws of Yoga sessions, savor delicious ayurvedic meals prepared from "The Chopra Center Cookbook," and enjoy nightly entertainment with special guest performers.
The Chopra Center has reserved a limited number of guest rooms at the Enchantment Resort for Seduction of Spirit participants. Guests will enjoy staying in the resort's world-class setting for a special discounted rate of $185/night* (single and double occupancy).
To register for Seduction of Spirit or to learn more, please call 888.736.6895 or visit http://www.chopra.com/seduction.
About the Chopra Center
The Chopra Center for Wellbeing was founded by Deepak Chopra, M.D. and David Simon, M.D. in 1996. Located in Carlsbad, California, the Center offers a wide variety of programs, retreats, and teacher training programs that integrate the healing arts of the East with the best in modern Western medicine. The Chopra Center has helped millions of people around the world find peace of mind, physical balance, and emotional healing. The website http://www.chopra.com is your starting point on the path to wellness.
About Deepak Chopra, M.D.
Author, physician, and co-founder of the Chopra Center for Wellbeing
Recognized as one of the world's pioneering experts in mind-body medicine, Deepak Chopra continues to transform our understanding of health and healing. A global force in the field of human empowerment, he is the prolific author of more than 55 books, including 14 bestsellers on mind-body health, quantum science, and spirituality.
About David Simon, M.D.
Author, CEO, Medical Director and Co-founder of the Chopra Center for Wellbeing
David Simon is a world-renowned authority in the field of mind-body medicine. As a board-certified neurologist and expert in complementary therapies, he brings a unique perspective to the relationship between mind, emotions, and health. David is the author of many wellness books, including his most recent bestseller, Free to Love, Free to Heal: Heal Your Body by Healing Your Emotions.
About davidji
Davidji has been in apprenticeship to Deepak Chopra and David Simon for the past seven years and is the dean of Chopra Center University. As the Chopra Center's lead meditation teacher and a certified "Perfect Health" instructor, davidji is a guiding force who has taught thousands the timeless tools of meditation and Ayurveda.
Media Contact:
Tiffany Murray
(760) 494-1660
# # #