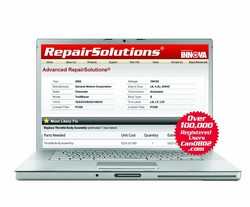 We always knew there was a demand for information and services to help DIYers pinpoint repairs for their check engine-related problems
Fountain Valley, CA (PRWEB) April 21, 2010
Equus Products, Inc., is pleased to announce that its RepairSolutions® at CanOBD2.com has surpassed 100,000 registered users just two years after launch. A much-needed industry service, RepairSolutions gives do-it-yourselfers (DIYers) an affordable way to tap into the extensive knowledge base that includes real-life fixes down to parts needed and repair procedures with video footage. A boon to the automotive aftermarket, RepairSolutions diagnostic reports have generated over $10 million worth of potential parts sold and helped reduce non-defective returns by recommending the correct parts without trial and error.
"We always knew there was a demand for information and services to help DIYers pinpoint repairs for their Check Engine-related problems, but I don't believe anyone expected such rapid growth, said Keith Andreasen, ASE double-master technician and Innova's director of technical services. "It's exciting to see that we are able to consistently help more than 1,000 new register customers each week solve their automotive diagnostic problems week after week, while also generating potential parts sales for automotive aftermarket retailers. A majority of our customers are DIYers, but we have professional automotive technicians and consumers using the service as well."
RepairSolutions launched during first quarter 2008 after over a decade of development, and includes tens of thousands of real-life fixes for actual in-use failures, input by a nationwide network of tens of thousands of ASE-certified mechanics. This VIN-specific, Internet database has revolutionized the way pros, DIYers and consumers alike approach automotive repairs. It includes diagnostic data and solutions for most 1996 and newer OBD2-compliant cars, light trucks, minivans and SUVs – foreign and domestic, as well as select OBD1 vehicles. It is supplemented by OEM data-licensed information from OEMs, ETI, Cengage Learning Group, and updated and validated daily by more than 50 contracted ASE Master technicians.
RepairSolutions at CanOBD2 can be used by anyone who owns an on-board diagnostic tool, but works best when combined with the use of the popular INNOVA® OBD tools, which are used by over a million customers to date. Options include a basic or advanced diagnostic report. The free basic report includes vehicle diagnostic details, emissions monitor status, freeze frame data, diagnostic trouble code definitions and more. For $14.99, registered users can purchase an advanced report with most likely fix, repair costs, labor time and rates, technical service bulletins and more. According to Andreasen, about 25 percent of CanOBD2 customers opt for the advanced report. Innova tool owners can quickly and easily upgrade to RepairSolutions by plugging their tool into their PC and clicking "upgrade" when the current software launches and then visiting http://www.CanOBD2.com. If you don't own an Innova tool, you can still benefit from RepairSolutions. Just visit http://www.CanOBD2.com for more information.
About Equus Products, Inc.
Fountain Valley, Calif.-based Equus Products, Inc., is an ISO 9001: 2008 certified company, and a leading manufacturer and distributor of test equipment, gauges and tachometers for the automotive aftermarket. Founded in 1982, the company markets and distributes its line under the EQUUS brand to major retail and WD accounts throughout the U.S., Canada and Mexico. In 1990, Innova Electronics Corporation was acquired for research, design and product development. Products developed under this division carry the INNOVA® brand and are designed to provide customers with easy-to-use products for servicing the vehicles of today and tomorrow. For more information, visit http://www.Equus.com or http://www.CanOBD2.com.
# # #