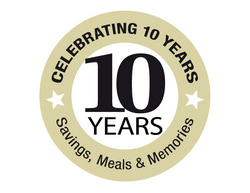 It is a privilege to have such an historic restaurant on the Restaurant.com program
Arlington Heights, Ill. (PRWEB) April 20, 2010
Restaurant.com today announced that Fior d'Italia has been named the featured restaurant for April for the "Restaurant of the Month" program. Founded in 1886 and a vital part of San Francisco's rich history and tradition, Fior d'Italia is America's oldest Italian restaurant. Through the Restaurant of the Month Web page, site visitors can explore facts about Fior d'Italia's history and enjoy an exclusive recipe for "Risotto alla Milanese" which has been popular for more than a century. In addition site visitors can learn more about Italian cuisine and discover other Italian restaurants on the Restaurant.com program.
"It is a privilege to have such an historic restaurant on the Restaurant.com program," said Cary Chessick, Restaurant.com president and CEO. "There are few restaurants and even businesses that have changed and thrived over three different centuries. As we celebrate our founding, we look at Fior d'Italia with admiration."
The Restaurant of the Month selection process is based on criteria including the restaurant's popularity with diners, high standards for service, unique cuisine, memorable ambiance, history and more. Fior d'Italia has been a historical center of cultural and social events for San Francisco and the local Italian community, which weighed into the restaurant's selection for the recognition program. Committed to keeping traditional Italian recipes alive and well, the restaurant is dedicated to consistency in quality and service. Since its inception, Fior d'Italia has persevered through challenges and most notably survived two major earthquakes, one of which destroyed the restaurant in 1906 and resulted in the restaurant operating in a tent to keep serving the community.
Today, Fior d'Italia is still committed to serving Northern Italian cuisine, which is characterized by more use of butter, rice, corn and cheeses. Head Chef Gianni Audieri is dedicated to using traditional products native to Italy. The current menu presents 20 varieties of pasta and eight veal dishes. Still located in the heart of San Francisco, the current location is open for lunch and dinner 365 days a year and boasts private rooms that can accommodate parties of six to 130.
"As we prepare to celebrate our 125th year, we are honored to be recognized as the 'Restaurant of the Month' and partnered with Restaurant.com to ensure our marketing aligns with 21st century guests," said Bob Larive owner of Fior d'Italia. "Although we hold a special place in history, it is always important for us to reach new customers to continue our legacy."
As part of the recognition as the Restaurant of the Month, Fior d'Italia is featured on the Restaurant.com homepage with a link that directs site visitors to the "Restaurant of the Month" Web page (http://www.Restaurant.com/FiordItalia). The Web page offers Fior d'Italia information such as Executive Chef Gianni Audieri's recipe for Risotto alla Milanese, along with a gallery of historic and current photos. In addition, Restaurant.com includes a zip code search box on the page so site visitors can search for local Italian restaurants explore the many other options that restaurants participating in the Restaurant.com program offer.
"Fior d'Italia's longevity is an incredible testament to the perseverance of this well-operated business," said Chessick.
Throughout 2010, Restaurant.com is paying tribute to devoted customers, restaurant partners, clients, staff and community members through a series of anniversary activities. The Restaurant of the Month program continues the celebration. Similarly, Fior d'Italia is commemorating to its own anniversary milestone through a unique, one day promotion offering even more savings. On April 30 the restaurant will "turn back the clock" by offering a menu with prices reflecting its 1886 founding with all items costing less than 30 cents. To learn more about the Restaurant of the Month program and the spotlighted restaurant for April, The Fior d'Italia, visit: http://www.Restaurant.com/FiordItalia.
About Restaurant.com
Restaurant.com is the trusted and valued source connecting restaurants and diners nationwide. The company offers savings at more than 15,000 restaurants nationwide with more than 25,000 daily gift certificate options. Restaurant.com brings people together to relax, converse and enjoy well-prepared and -served meals at affordable prices. To date, Restaurant.com customers have saved more than $100 million through the gift certificate program. Restaurant.com has operated since 1999 and is based in Arlington Heights, Ill.
###