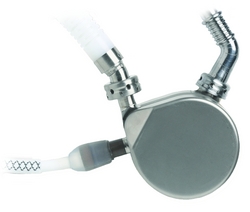 Ann Arbor, MI (PRWEB) April 20, 2010
Terumo Heart, Inc., a wholly owned subsidiary of Terumo Corporation, today announced that it will participate in the 30th Anniversary International Heart and Lung Transplantation (ISHLT) Meeting, April 21 to 24, in Chicago, Ill. Terumo's primary focus at this meeting is the DuraHeart™ Left Ventricular Assist System (LVAS), which is currently enrolling patients in its US Bridge-to-Transplant clinical trial.
There are three presentations scheduled at ISHLT that include data on the DuraHeart LVAS:

Thyroid Deficiency Is Common in Advanced Heart Failure and Associated with Increased Operative Mortality after Assist Device Implantation: N. Uriel, S. W. Pak, P. Colombo, R. Song, D. Mancini, Y. Naka, U.P. Jorde Medicine, Columbia University, New York, NY; Surgery, Columbia University, New York, NY (Wednesday, April 21)
Outpatients on Mechanical Circulatory Support: Risk or Chance?: T.N.H. Drews, T. Krabatsch, E. Potapov, A. Stepanenko, M. Hubler, M. Pasic, R. Hetzer Deutsches Herzzentrum Berlin, Berlin, Germany (Friday, April 23)
Acquired Von Willebrand Disease Frequently Occurs in Continuous Flow Left Ventricular Assist Devices: N. Uriel, S.-W. Pak, U.P. Jorde, S.A. Cappleman, Y. Naka, D. Mancini Medicine, Columbia University, New York, NY; Surgery, Columbia University, New York, NY (Saturday, April 24)
"We look forward to meeting with our clinical partners and others at the ISHLT meeting," said William Pinon, President and CEO, Terumo Heart, Inc. "In addition to new clinical data being presented at this meeting, we have achieved two recent clinical milestones with the unconditional approval of our BTT trial and the recent IDE submission of our DuraHeart Destination Therapy protocol to the FDA. This is an exciting time for Terumo and the entire LVAD community."
The DuraHeart LVAS is the latest-generation rotary blood pump designed for long-term patient support. The system incorporates a centrifugal flow rotary pump with an active magnetically levitated impeller featuring three position sensors and magnetic coils that optimize blood flow. The impeller's magnetic levitation is designed to eliminate friction by allowing a wide gap between blood contacting surface areas, enabling blood to flow through the pump unimpeded in a smooth non-turbulent fashion.
The DuraHeart LVAS is currently being studied in the DuraHeart Pivotal U.S. Trial for Bridge-to-Transplant, a multi-center, prospective, non-randomized study, involving 140 patients. The study will evaluate the safety and efficacy of the device in helping to sustain patients awaiting heart transplant who are at risk of death due to end-stage heart failure. The DuraHeart LVAS carries a CE Mark and is currently available for sale in European countries. Additionally, the company has completed clinical trial enrollment for this device in Japan.
Terumo Associates, representing the global business, will be present and available to meet during the ISHLT meeting at the exhibit booth #204. For more detailed information about the DuraHeart BTT Trial, visit http://www.clinicaltrials.gov and for more information about the DuraHeart LVAS, visit http://www.terumoheart.com.
About Heart Failure
More than 22 million people suffer from heart failure worldwide with approximately one million new patients diagnosed annually. In the setting of an aging global population, heart failure is the number one reason for hospitalization. The most severely ill patients need heart transplants in order to recover. More than 8,000 people worldwide are on the list of eligible candidates for heart transplants annually, but less than 3,000 will receive a transplant each year. A large number of people who suffer from severe heart failure do not qualify for transplantation due to other health issues. An alternative for these patients is access to artificial mechanical assist devices. Left Ventricular Assist Systems are a type of mechanical circulatory device specifically designed to improve the quality of life of the patients waiting for donor hearts, as well as those who are ineligible for a heart transplant.
About Terumo Heart, Inc.
Terumo Heart, Inc. is a U.S. subsidiary of Terumo Corporation with headquarters and manufacturing facilities in Ann Arbor, Michigan. The company's focus is the innovation and introduction of products to improve the quality of healthcare for heart failure patients. Terumo Corporation, located in Tokyo, Japan, is a leading developer, manufacturer and global marketer of a wide array of medical products. DuraHeart is limited to investigational use only in the United States, and is CE marked in Europe. For more information visit http://www.terumoheart.com.
###