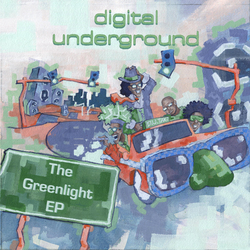 What's great about this collection of tracks is the diversity of sounds and themes, and the fact that its a real upbeat project
Las Vegas, NV (PRWEB) April 21, 2010
Jake Records, a leading independent record label, today announced a new upcoming release from Hip Hop legends Digital Underground. The album, entitled The Greenlight EP features previously unreleased material, and a special live recording of the group's famed "Same Song" featuring a young Tupac Shakur. The project, the last official release for the group, releases May 18th worldwide. The album will be available digitally worldwide via iTunes, Rhapsody, eMusic.com, LaLa.com and dozens of other outlets, and physically via select record stores, as well as Amazon.com, CDBaby.com and more.
Jake Records Founder and CEO Scott Thomas notes the album's special place in the Digital Underground catalog saying "in 2008 the group released their final studio album, Cuz A d.u. Party Don't Stop, but there were still a few songs hidden away in archives that Shock and the group really wanted out there, so The Greenlight EP was born to help round off the collection for fans," he said. "What's great about this collection of tracks is the diversity of sounds and themes, and the fact that its a real upbeat project," he added. Digital Underground Co-Founder and front-man Shock G added "Two of my favorite d.u. tracks exist here, "Duck Season" and "Greenlight" which is the rappin' debut of Peanut Hakeem." "Him & Money-B are shreddin' on that song," he added.
Production credits on the album include Shock G, David Banner, Dotrix 4000 and more. Guest vocalists include 2Pac, Numskull (of The Luniz), and J Stalin.
Distribution for the album is being handled digitally by San Francisco based IRIS Distribution, and Portland based Burnside Distribution is taking on physical distribution, both domestically and internationally.
About Jake Records: Jake Records is a leading independent record label founded in 2008. The label boasts an impressive catalog of artists including multi-platinum selling Hip Hop legends Digital Underground, Element, BINC, Westside Bugg, producer Dae One, and more. Jake Records music is distributed digitally by IRIS Distribution. Jake Records is online at http://www.jakerecords.com.
# # #