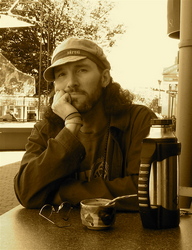 Talk about changing oneself? Let people watch "The Mission" with Jeremy Irons and Robert De Niro... maybe 100 times or so..... on second thought, some might need to watch it a couple thousand times.
Montclair, NJ (PRWEB) April 22, 2010
In honor of Earth Day 13 Hands, aka Dalien, aims to inspire and answer some questions plaguing humankind with his song, "Belief In The Common Good". Given the tough socio-economic climate, various earth changes and global warming issues, the message focuses on how to better oneself and contribute to making the world a better place for future generations. Dalien even challenges his own belief systems and admittedly faces distractions due to massive, merchandising, marketing forces that make him contemplate whether or not he truly needs to an Edward Cullen, Twilight lunchbox at Blockbuster.
The visually inspiring video was made on zero budget and a bit of creative brainpower....and "heart power". Dalien found a site called morguefile.com. At first, the name sounded negative and dark. But after browsing all the amazing artists and their work, all negative association ended immediately.
"Having found a site like this was a gift.... coupled with great intentions to help support other artists; the idea was completely in alignment with the song's message.... people helping people... contributing to the world and helping others for the sake of the common good of all."
As a result, the video has embodied a "tribal" and community feel, that shares the talents of approximately 25 talented photographers from all over the world whose visual talents merged with 13 Hands musical message.
The song is one part Freudian rhetoric and two parts musical and social/spiritual commentary. The "common good", as 13 Hands describes, "is a state of conscious awareness, rooted in shamanism, where people conduct themselves in the best interests of every living person, being, life form, the earth and are committed to improving living conditions on this planet now and in preparation for our future generations. It has a Star Trek, Gene Roddenberry kind of inspiration behind it... yet the world is far from this place of utopian bliss, respect and understanding... but change is in the air.
From the Bernie Madoffs of the world, the financial institutions whose lack of integrity nearly ruined us, the companies that displace indigenous people to control natural resource, the trash and toxic chemicals dumped in landfills, the ocean and littering outer space (ala Pixar film Wall-e) to the daily headlines seen everyday that report of senseless murder, violence, abuse, corruption and hate toward one another and children. Still through of this, Dalien believes everyone can change and heal... with the right tools.
The struggle of dark versus light and the battle of one's ego is woven throughout the video's message; stressing how there is karma to pay when pain or hurt is inflicted on another living being.
"I always think about how Anakin Skywalker struggled to do the right thing before succumbing to his own dark side and becoming Darth Vader... I really felt bad for him on some level.... which then always reminds me of the song 'Just' by Radiohead, 'You do it to yourself, just you... and that's what really hurts.'"
The video spares no shortage of Star Wars imagery with a photo of an artist-created bronze sculpture of Han Solo encased in carbonite (carbon freeze) from Episode 2: The Empire Strikes Back. And more than once 13 Hands makes it known that Obi Wan Kenobi would be a great President of the United States.
On a mind, body, health and spirit note, the video entertains the idea that having regular bowel movements affects one's personal happiness... and brings out an inherent goodness in people.
"That makes complete sense to me.... you feel lighter," Dalien states.
"You dump regularly, you feel better, you act better and life feels manageable and flowing.... I'd dare say healthy dumping increases optimism and a calmer disposition. Let's face it... our world is backed up, toxic and constipated socially, economically, nutritionally, environmentally and interpersonally. I wonder if any studies have been done to measure the relationship between 'dumping frequency' and how one feels about life, themselves and treats others... lol."
The video conveys that the world has the potential to work in the best interests and for the common good of all, but the message is not so delusional in knowing it will take time. Personal reflection, healthier living, empathy for others and healing past emotional wounds are steps the video touches upon that might contribute to a "world healing".
For thousands of years the great swamis, sages, philosophers, spiritual and religious leaders have preached that a major shift in personal awareness can happen when an intense or tragic event occurs; allowing for a "wake up call" that could propel one to change their ways and become a healthier and better person.
Belief In The Common Good is an intense song that hopes to inspire just that...
"I just wish it didn't always have to take an earthquake or tragedy to bring out the best in the human spirit... but it is what it is... and one day we'll get out of our diapers and stop crapping all over ourselves and others."
Contact 13 HANDS / NOMADYOGA for more info.
###